'Recluse' Robert Duvall Hiding Tragic Health Secret, Friends Fear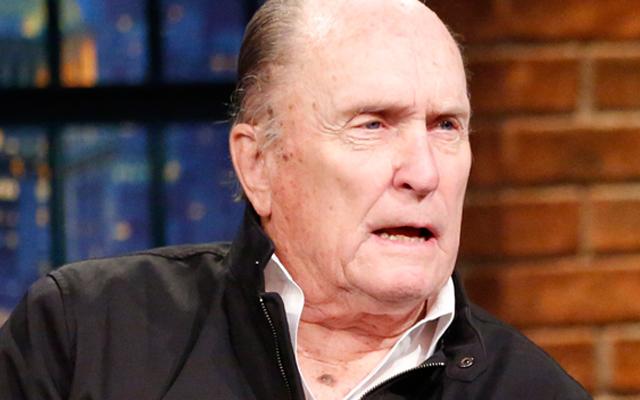 Robert Duvall has been living like a recluse for seven long months — and friends fear the 85-year-old "Godfather" actor is hiding a tragic health secret!
"Bobby hasn't been seen in quite some time now, and the fear is that he may have had a stroke," a Hollywood insider told RadarOnline.com.
"Despite his age, he'd been going great guns in his career up until recently."
"Friends kept telling him to slow down and take it easy. The feeling is that his body just gave out."
Article continues below advertisement
Pals pointed out that Duvall's lifestyle makes him a prime candidate for a stroke: He loves to eat red meat — especially steak and barbecue. He's also smoked in the past.
Still, fun-loving Duvall has always seemed young at heart — even dancing up a storm until recently.
"Bobby's a tango aficionado, along with his wife," said the source, referring to Robert's fourth wife, 44-year-old Argentine-born beauty Luciana Pedraza.
"Bobby still acts like he's half his age," explained the source. "Up until a couple years ago, he was still riding his horse all over his 360-acre Virginia farm. But recently he's had to slow down a bit because it started to take a toll on him."
Meanwhile, Duvall continued to make movies, like Wild Horses, which was released last year. And he shot In Dubious Battle with James Franco and Bryan Cranston in early 2015. But there's nothing else in the pipeline for him right now, according to IMDB.
"Many of Bobby's friends have been worried sick about him because nobody's seen him in a while," said the source. "That's not like him."
UPDATE:
A rep for Duvall denies that he suffered a stroke, or has any medical problems.