Puppy Killer?! Lisa Vanderpump At War With Eileen Davidson Over 'Murdering Dogs' Joke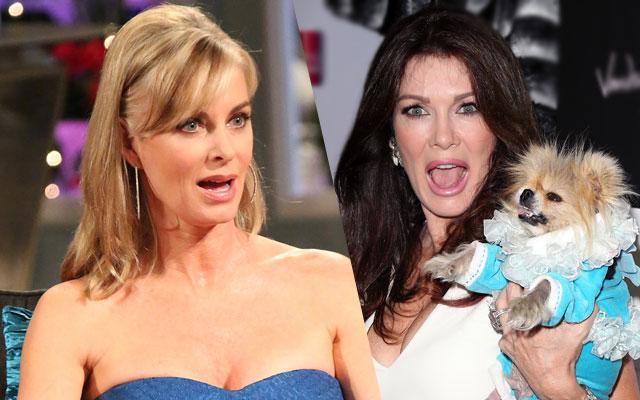 Real Housewives of Beverly Hills star Lisa Vanderpump is at war with co-star Eileen Davidson and RadarOnline.com has exclusively learned that the feud is about to get seriously ugly!
On Thursday, Davidson, 56 — who is currently in her third season on Bravo's hit franchise — took to her blog and joked, "Next week all of us, and our issues, are packing up and headed to Dubai. I wonder if there are any dogs there I can murder?" It was a reference to Vanderpump's anger about her skipping a dog-related event, which Davidson said had nothing to do with her feelings about the animals, but only her schedule.
Article continues below advertisement
As fans know, Vanderpump is a HUGE animal rights activist and is also the founder of Stop Yulin Forever, which is a grassroots movement to end the barbaric torture and murdering of dogs in China.
Although Davidson's remarks were obviously facetious, "Lisa and many of her fans were aghast after reading Eileen's blog post," a source close to Vanderpump told Radar.
"Making light of Lisa's passion to stop the barbaric torture of dogs at the Chinese Yulin Festival is just going too far!"
The same day that Davidson made her sarcastic remarks, Vanderpump was spotted at the Global Pet Expo in Florida, where fans were offering their emotional support.
"Everyone who knows Lisa knows that she has had many sleepless nights over her efforts so save these dogs from being murdered," the insider told Radar. In fact, this past week's episode of RHOBH featured Vanderpump, along with thousands of supporters, marching in L.A. to the Chinese Consulate to protest the animal rights abuses that they believe happen there.
In addition, Radar has obtained an exclusive photo of Vanderpump, 55, and husband Ken Todd, 58, with their latest rescue – Harrison, the pomeranian – along with their longtime other pets, Giggy the Pomeranian and Shnooki.