Kyle Richards Confronts Yolanda Foster About Lisa Rinna 'Bipolar' Gossip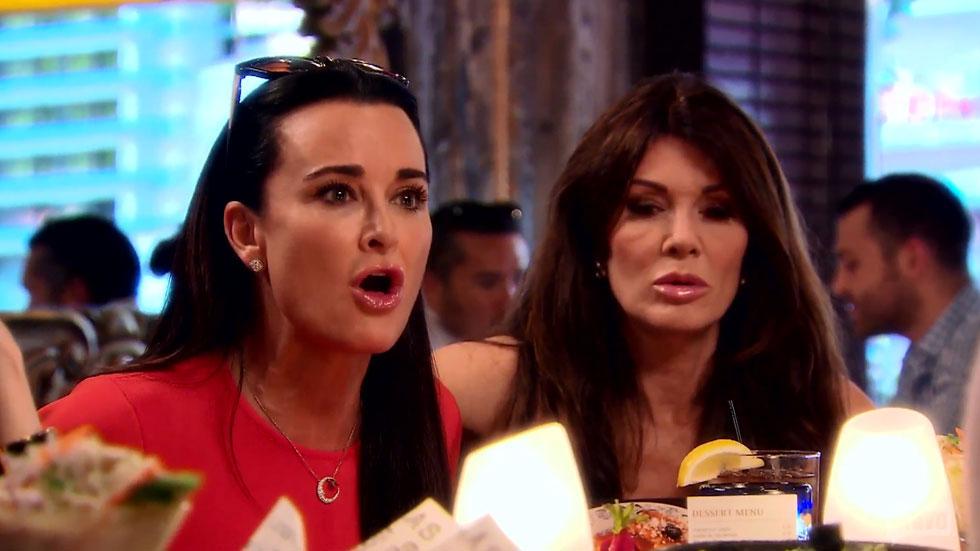 Whenever the women on The Real Housewives of Beverly Hills sit down for a meal, the drama joins them at the table. After a SoulCycle class for charity, the ladies intended to enjoy a relaxing lunch. Little did they know, Kyle Richards and Yolanda Foster had unfinished business.
Kyle started whispering to Lisa Vanderpump about whether or not Lisa Rinna knew of the alleged "threat" Yolanda made against her. Last week, Yolanda said that Rinna was spreading Munchausen's rumors and she could just as easily say something potentially hurtful about Rinna and the term "bipolar" was thrown around.
Article continues below advertisement
Erika Girardi spoke up first. She said to Yolanda, "Lisa Rinna says you said she was bipolar."
"I never said Lisa Rinna was bipolar," Yolanda said defensively but she justified her statement because Rinna threw a glass in Amsterdam and sent Kim Richards a threatening text message last season.
She said, "I could potentially call her bipolar but I would never do that because it's not my place to do so."
Kyle stood up for Rinna and said the soap star never said Yolanda had Munchausen's syndrome so her saying "bipolar" is putting negative vibes out into world. Yolanda is the one starting gossip that could hurt someone's "reputation" and "integrity."
The conversation escalated quickly with Yolanda telling Kyle in a condescending tone she's "making it her business" and to "just relax and have a glass of wine."
Article continues below advertisement
Kyle said, "Yolanda, come on. Give me a f*cking break."
But Yolanda scolded her instead. "I'm telling you not to talk about me or Lisa Rinna when Rinna is not here to defend herself." The former model told her "friend" to drop the conversation because "I hold a lot in the vault honey."
Kyle felt threatened at that point. "What does that mean? Are you threatening me?" she asked.
A few days after the confrontational lunch Yolanda still felt so frustrated she wrote a chiding email to Kyle about her behavior and decided to CC all women in the group!
MORE ON:
The Real Housewives of Beverly Hills
Rinna called the reprimanding words passive aggressive— "A good friend doesn't store secrets to use them at a later date."
Meanwhile, Erika and newbie Kathryn Edwards got closer during a workout session and the performer warned her about "manipulative" Vanderpump. "She is sweet but she's smart. I think she engages from the side," Erika said. "I think she doesn't want to leave any fingerprints. She's selectively honest."
Article continues below advertisement
And speaking of the Notorious LVP, she coordinated a "little, rustic" dinner party at her home only to face-off with Eileen Davidson once again about their Hamptons trip drama.
"You have a habit of minimizing … It felt like you just kinda dismissed me," Eileen said of Lisa's reaction. She felt Lisa just glossed over issues to carry on and nothing ended up being resolved.
"You're right. I need work on that," Lisa admitted in a bored, flat tone not making any direct eye contact and letting herself be distracted easily.
Eileen appeared extremely frustrated and just kept talking in circles. "I'm beyond the apology, people. I don't care about the apology. I don't like the way she tries to get out from under something or from just being accountable or taking responsibility," she said in her confessional.
The Real Housewives of Beverly Hills airs every Tuesday at 9pm ET on Bravo.