O.J.'s Ex Claims She Dumped Him Because Of His 'Betrayals And Rage'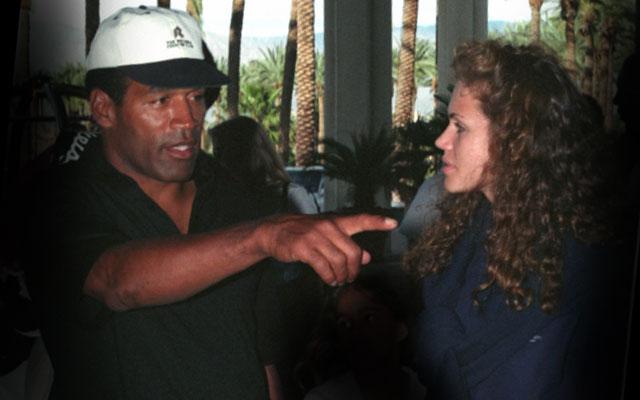 O.J. Simpson may have been acquitted in the murders of his ex-wife Nicole Brown Simpson and Ron Goldman, but the 68-year-old former football player is far from a saint.
In her book, The Other Woman, My Years with O.J. Simpson: A Story of Love, Trust and Betrayal, Simpson's ex-girlfriend Paula Barbieri detailed their tumultuous relationship as filled with dishonesty and abuse.
The couple's first fight occurred during a trip down to Simpson's weekend home in Malibu.
Article continues below advertisement
They were out playing pool when Simpson accused Barbieri of flirting with another man.
During the car ride home, they got into a huge shouting match.
When Barbieri picked up the car phone saying she wanted to go home, "O.J. grabbed the phone and knocked it out of my hand, hurting me," she wrote.
Back at home, the model/actress locked herself in the master bedroom while Simpson threatened to kick the door down.
"I was angry and frightened, and I didn't want to deal with him," Barbieri recalled. "I curled up in a ball in the farthest corner of the room."
When she finally opened the door to leave, Simpson apologized and said, "I swore that I'd never lay my hands on another woman like that."
During another scary incident after Simpson's murder trial concluded, the 6'1" athlete got into a battle with Barbieri while visiting her in Panama City, Florida.
Article continues below advertisement
"I thought he looked ready to lunge at me, to pick me up and shake me," she said. "He seemed to be fighting with himself, as if there were some other person struggling inside. A person who was wild and violent, a person who scared even O.J."
In the middle of the fight, he threw a magazine and knocked a lamp to the floor.
"But though O.J. stopped short of trashing the room, and though he didn't lay an angry hand on me, I felt a rush of fear nonetheless," Barbieri said. "… here he had lost his mind."
On top of Simpson's aggressive behavior, Barbieri constantly worried about his infidelities.
In on particular occasion, Barbieri went to meet Simpson in Florida. He had told her that the days leading up to their meeting, he had been in New York City.
But Barbieri found out through a friend that Simpson was actually partying in Florida while he claimed he was staying in New York.
She confronted him about the lies and they again fought about the truth.
Article continues below advertisement
"There were two things that you could not do with O.J." she said. "One was challenge and excuse he made up; the second was to spurn one of his gifts."
"O.J. glared at me, veins bulging from his neck," Barbieri continued. "'You ungrateful b***h!' he yelled—and then he grabbed some chrysanthemums and threw some back at me."
After their match finished up, "I was outrage and confused and heartbroken, all at once," Barbieri claimed. "I was eager to get out of there before O.J. came back."
In the end, Barbieri ended her relationship with Simpson, realizing that they weren't on the same path.
"I left my relationship with O.J. when I finally grasped what a life with him would be like," she concluded. "I left because of his lies and betrayals, and from the tastes of his rage in Palm Beach and Panama City."