Sex Assault, Theft & More! Police Records EXPOSE Shocking Incidents At Obama Girls' School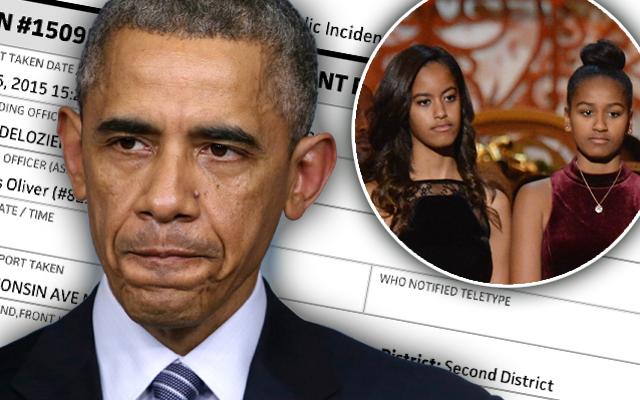 An explosive sexual assault investigation at Sasha and Malia Obama's elite D.C. school has torn the lid off of the tony reputation of Sidwell Friends. But RadarOnline.com has learned that the ongoing scandal is hardly the first time police have had to visit the campus. Years of police records obtained by Radar show a history of theft and other incidents on campus. Are the Obama girls in danger?
President Barack Obama and other members of the Washington elite spend more than $37,000 per year to send their children to the prestigious Sidwell Friends School in Washington, D.C., but it's hardly a luxurious idyll. Police records obtained by Radar via FOIA reveal a series of troubling incidents since the girls joined the school in 2008.
Article continues below advertisement
Most recently, a few months before the sexual assault investigation on June 25, 2015, D.C Metro police responded to the school after a car parked out front in the driveway was stolen.
And about six months before that, in December 2014, a silver Macbook Pro worth $1,600 was nabbed from the ladies bathroom.
In October, 2014, a wallet including several credit cards was reported missing from an office at the facility. That same month, a purse was reported stolen from the customer area as well.
And one year before, in November 2013, police responded to an incident that occurred when students were asked to "leave their property outside the gym door unattended" during an event in the gym. According to the police report, surveillance video caught "what appears to be a student and maybe his parent" picking up a backpack full of a Samsung galaxy phone, clothes, $50 in cash, and a digital camera.
Article continues below advertisement
Earlier, in February 2013, a woman reported that her credit cards were stolen from her car and used without her permission.
Just a few weeks prior to that, a student reported that someone "stole her duffel bag" from the first floor hallway of the school, taking with them $100 in cash, her credit cards, and more.
But perhaps the most disturbing incident occurred in November 2012. Eight law enforcement officials responded to a call at the school at 5:45 a.m. "The building look sic as if it had been burglarized," the report stated. "Person(s) unknown took the wooden lawn chair and smashed the front window, the rear window, and the lobby door glass."
"The place was ransacked," the report stated. "Furniture was broken," and about $1,000 worth of other items "were destroyed."
And in April 2012, an individual reported more than $7,000 worth of photographic equipment and computers from "his unlocked office."
As Radar reported, news broke Friday that police were pursuing an investigation at the school after allegations of a sexual assault on campus.
Metro Police spokesman Dustin Sternbeck told Radar at the time, "It's an active police investigation and involves high school students at the Sidwell Friends School. It happened on campus."
Article continues below advertisement
But Sternbeck said it's unlikely that additional security procedures will be put in place to ensure the safety of Malia, 17, and Sasha, 14.
"There already are a number of security measures in place," he said. "No additional measures from what they already have. We don't think this is a threat to the entire student body. It appears to be an isolated incident."
What's more, the school is currently out on spring break, and the Obama girls have accompanied their father and mother on an historic trip to Cuba.
In 2012, Sidwell Friends was in the headlines when Hugh Langdon Elstree was charged with possession to distribute cocaine and ecstasy after police raided his home roughly two miles from Sidwell Friends and found 304 grams of suspected meth and seven grams of cocaine.
He pleaded guilty in exchange for probation and mandatory treatment at a drug rehab.
Story developing.