Nicki Minaj Accused Of Leaking Nick Young Cheating Confession Amid Iggy Azalea Feud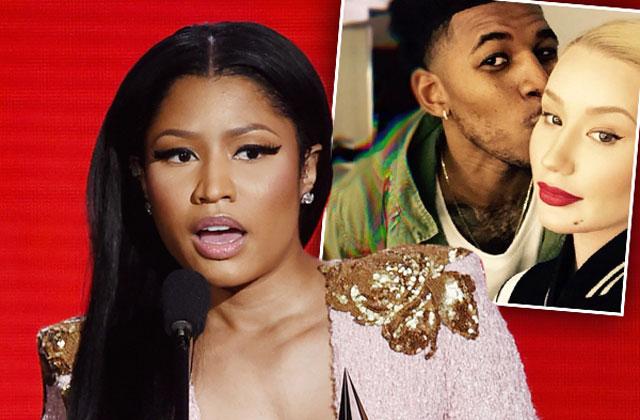 Nick Young's teammate may have been the one to record his cheating confession, but his fiancée Iggy Azalea's enemy, Nicki Minaj, is the one being accused of leaking the explosive video!
"Somebody from Nicki Minaj's camp, a source, got the video and they sent it in," a writer for "Fameolous," who broke the story, said on the HD Show. "They said, 'Here put this out because Iggy want to talk mess about Nicki Minaj, put this out and let her know what her fiancé is doing.' That's the real story behind this."
Article continues below advertisement
Young's Los Angeles Lakers teammate D'Angelo Russell posted the video on SnapChat before Minaj's camp reportedly picked it up.
"They wanted to make Iggy basically shut up," the reporter said of Minaj's camp, who leaked the footage in response to comments made by Azalea, 25, on Watch What Happens Live.
"I have just as many people on my writing credits as she has on hers. I would know, I write mine," Azalea told host Andy Cohen of when Minaj, 33, accused her of not writing her own songs. "If she writes hers, I believe her too, but you can't look at the credits and be like, 'Oh, look at this massive difference.' It's the same number of people on both."
Article continues below advertisement
Young broke his silence on the scandal in a press conference to reporters.
"I think it's best me and D'Angelo handle our situation in a private manner," he said. "It's something we need to talk about. What happened is what happened. We've got to work on it."
This isn't the first time Young has been involved in a scandal. The basketball player was accused of sexual harassment when he reportedly made "vulgar, sexual gestures" towards a woman and her mother on March 20.
Who do you think leaked the video? Tell us in the comments!