Exclusive
Headed For Disaster? Madonna Downs Potentially Deadly Mix Of Booze & Pills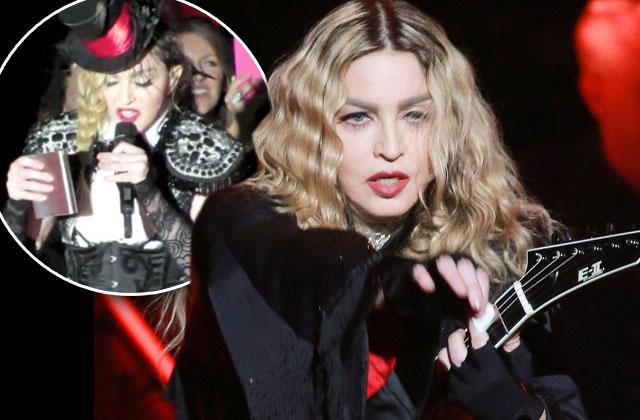 RadarOnline.com has exclusively learned that Madonna's bizarre behavior and recent string of public meltdowns may be due in part to her preference for prescription pills.
"Madonna seems to like her anti-psych meds," claimed an insider, who said the "Holiday" singer is particularly fond of Clonazepam, which is used to treat panic disorders.
However, the medication has some scary side-effects, including potentially causing paranoia and suicidal ideation and it can sometimes lead to an impairment in memory and coordination.
Article continues below advertisement
The manufacturer also warns using the pills in conjunction with alcohol could be fatal.
As Radar reported, Madonna's ongoing public fiascos are raising eyebrows amidst her ongoing bitter custody battle with Guy Ritchie over their 15-year-old son Rocco.
During a weekend concert in Brisbane, the 57-year-old singer grew emotional, crawled around onstage, downed tequila and even poured the mystery contents of a flask she grabbed off a concertgoer down her throat.
"She isn't even a big drinker," said the concerned insider.
Madonna's speedy descent is also beginning to be felt behind the scenes.
"She doesn't listen to anyone," said the insider, who noted Madonna recently fired her kids' security detail and canned her personal assistant.
She also "threw a fit" when Live Nation, which is helping to put on her Rebel Heart World Tour, slapped Madonna with a bill for penalty fees racked up from her spate of late concert starts.
"It was over a million dollars and they said they wouldn't cover because there was no reason for her to be going on late," revealed the insider to Radar.