Borderline? Madonna Jokes About 'Sexual Harassment' After Exposing Fan's Breast Onstage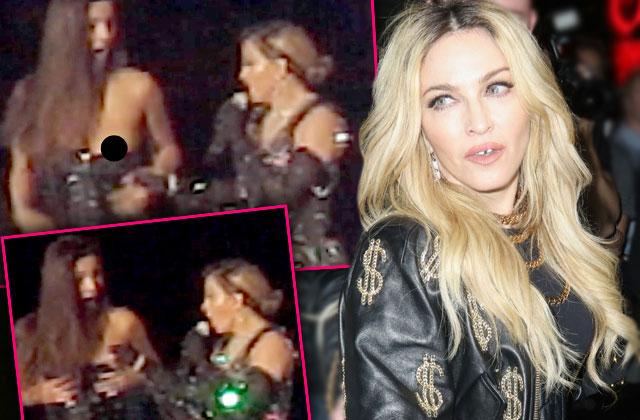 Madonna's world meltdown tour continues unabated as fans question her fragile state of mind.
The singer raised eyebrows with her latest antics during a recent concert for her Rebel Heart Tour in Brisbane, Australia, when she brought a woman onstage and proceeded to pull down her top, exposing her breast to thousands of concertgoers.
"She's the kind of girl you just want to slap... on the a**…and pull," joked Madonna, before proceeding to yank the woman's top down.
Article continues below advertisement
"Oh, s***. Oh sorry, sexual harassment. You can do the same to me if you like... you want to make my hole big again ?" asked Madonna, 57.
The Material Girl is alarming fans and those close to her with her behavior as her custody battle with ex-husband Guy Ritchie over their 15-year-old son, Rocco, rages on in the courts.
As RadarOnline.com reported, an insider claimed Madonna has been flirting with disaster, taking a potentially deadly mixture of booze and pills.
"Madonna seems to like her anti-psych meds," alleged the insider, who said the "Holiday" singer is particularly fond of Clonazepam, which is used to treat panic disorders.
However, the medication has some scary side-effects, including potentially causing paranoia and suicidal ideation and it can sometimes lead to an impairment in memory and coordination. The manufacturer also warns using the pills in conjunction with alcohol could be fatal .