Lindsay Lohan Turned Down A Late-Night Rendezvous With Harry Styles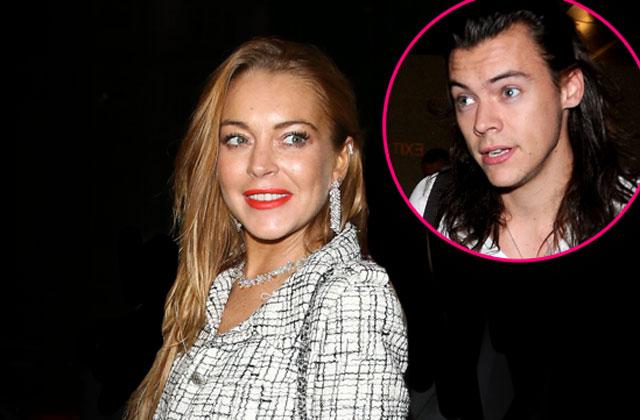 For Lindsay Lohan, there isn't just "one direction" to go in when it comes to her love life.
The 29-year-old actress revealed in an interview with The Sun in London on Wednesday that she once turned down 1D star Harry Styles, 22, who showed up to her hotel room unannounced.
"He was in a suit. I said, 'Well, you're very good-looking. Can I help you?' That was it," she recalled of their encounter.
According to Lohan, Styles then introduced himself, claiming that mutual friends had sent him to her door.
Article continues below advertisement
"I was in bed. I was like, 'I'm going to bed but it was nice to meet you,'" the Freaky Friday star replied. "It was 2 a.m. I had just come back from an AA meeting. I looked like s**t, too. I was wearing a big hotel robe; I had a slip under it. It was not a good look."
"It didn't click who he was at the time," she continued. "I told my sister the next day and she was like, 'Wait, are you kidding me? Do you understand? Do you have his number? Can I have it?'"
Lohan admitted that if they were ever to speak again, it would be uncomfortable.
"I saw him in L.A. recently," she said. "I think it's probably awkward on both our parts now."
Styles later claimed that his pals had tricked him into going to Lohan's hotel room by pretending there was an after-party at that location, The Sun reports.
Besides, Lohan is spoken for now! The actress later gushed about her new boyfriend, Egor Tarabasov, a 22-year-old Russian business heir.
"I haven't known Egor for that long," she told the publication. "We've been together for about seven months. He is a great guy. I met him in the summer. I'm really happy."