'Intense' Kim Richards Meltdown Caught On Camera!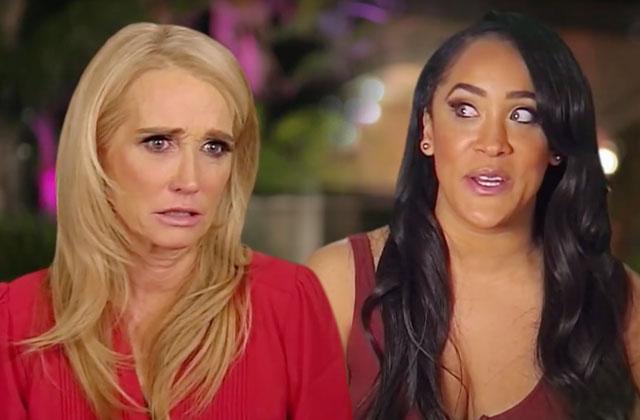 Kim Richards joined the cast of The Mother/Daughter Experiment: Celebrity Edition in order to repair her fractured relationship with her daughter Kimberly Jackson. But in the midst of filming, RadarOnline.com has learned that Richards got into a physical altercation with her costar Natalie Nunn!
"There were a lot of tensions that were running high," Dr. Debbie Magids, the therapist on the show, told Radar. "A lot of emotions were outpouring from these mothers and daughters. It was this very intense situation in a very short amount of time."
Article continues below advertisement
"Things that can take years and years to come out in real time therapy, came out," she continued. "So I think at that moment in time, there was a lot going on for each person individually, and the tensions rose."
The stress caused Richards, 51, and Nunn, 31, to fight.
"They had some conflict," Dr. Debbie said. "I can't deny that. But it was really coming out of their own issues being touched on."
For Richards, she was learning for the first time about how her personal issues were taking a toll on her 21-year-old daughter.
"The most important thing that came out for Kim was recognizing the impact her life has had on her daughter Kimberly's life and all the things that she has been going through and all the things in the public eye really hurt her daughter and created a situation where her daughter had to really worry about her mom and take on the role of caretaker," Dr. Debbie explained. "Because she's such a good mom in so many other ways, that was a surprise for her. She had to really wrap her head around it."
Article continues below advertisement
As Radar previously reported, the Real Housewives of Beverly Hills star was arrested last April for trespassing and battery while resisting an officer. She later checked into rehab to address her well-documented struggles with substance abuse.
But according to Dr. Debbie, Richards didn't discuss her former addiction struggles while filming the show.
"She tried to not address it on the show," she said. "It was alluded to in terms of other things have gone on and she did her best to keep it that way. So it was an undertone and underpinning of what created this dynamic between the mom and the daughter. But it wasn't explicitly addressed."
The Mother/Daughter Experiment premieres March 1 at 10 PM ET on Lifetime.