Joey Feek Dead: Heartbroken Husband Rory Posts Tragic Tribute Video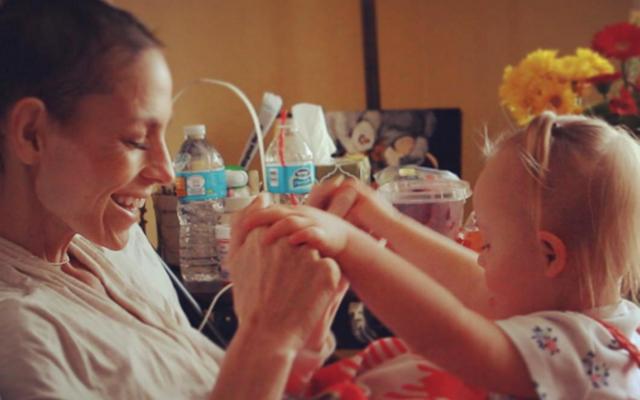 Brave Joey Feek lost her battle with cancer on Friday, March 4, 2016, and her husband announced the heartbreaking new on the family blog.
"My wife's greatest dream came true today. She is in Heaven," Rory Feek wrote about his wife, who was 40. "The cancer is gone, the pain has ceased and all her tears are dry. Joey is in the arms of her beloved brother Justin, and using her pretty voice to sing for her savior."
Article continues below advertisement
He described her last day, surrounded by her family.
"At 2:30 this afternoon, as we were gathered around her, holding hands and praying … my precious bride breathed her last," he wrote. "And a moment later, took her first breath on the other side."
The country couple have one daughter, Indiana, 2, who has Down Syndrome and was the apple of her mother's eye. Rory wrote about her saying goodbye to the little girl just days after her second birthday.
"And then she asked me to bring our baby in. And so … I set our little Indy on Joey's lap and we all cried with my wife as she told her how much her mama loved her and, '…you be a big girl for your papa… and that mama will be watching over you.' And then she pulled Indiana up and she kissed her," he wrote.
Diagnosed with ovarian cancer, Joey struggled for her life, but ultimately succumbed to the brutal disease.
Article continues below advertisement
"When a person has been through as much pain and struggle as Joey's been through, you just want it to be over," Rory wrote about his wife.
"You want them to not have to hurt anymore, more that you want them to stay with you. And so, it makes the hard job of saying goodbye just a little easier."
Rory wrote that he and Indy, and his two older daughters from a previous marriage, are returning home to the family farm in Tennessee.
"After four-and-a-half months in Indiana, we will soon be back home in Tennessee," he wrote. "Me, and our little one, with our older daughters. It's hard for me to imagine being there without Joey, but at the same time … it is where she wants us to be. It's where she will be … She's gonna be in the mint growing beside our back deck, the sweet-corn frozen in our freezer and a million other places that her hand and heart has touched around our little farmhouse and community."
"Joey will still be with us," he wrote. "Everywhere. So if it's okay, I'm gonna close, wipe my tears and pack our bags to hit the road headed south. She's already got a head-start on me."
WATCH HIS VIDEO TRIBUTE:
https://www.facebook.com/joeyandrory/posts/10153448629062816