Medical Crisis Continues! Jenelle Secretly Hospitalized in NYC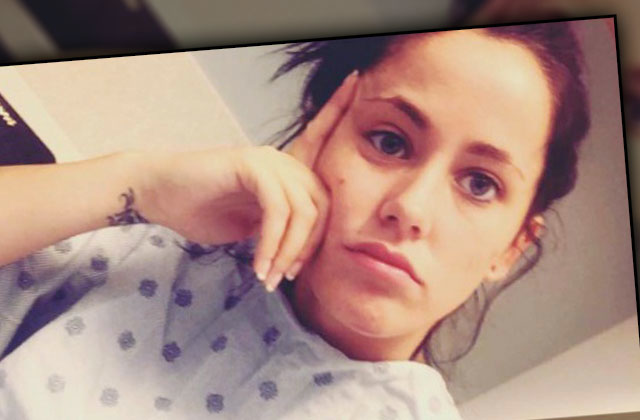 Jenelle Evans was supposed to face off with her baby daddy Nathan Griffith on Monday in North Carolina during a scheduled mediation orientation, but RadarOnline.com has exclusively learned that the court date has been pushed back in the wake of a medical emergency.
"Jenelle didn't go back to North Carolina today because she was in the hospital all night," a source told Radar.
Evans spent the weekend in New York City filming Teen Mom 2 specials, but then on Saturday night, she got sick.
Article continues below advertisement
"Jenelle was throwing up Saturday night at 10 pm, then at 5 am and 8 am," the source said. "They wanted her to stay all night, but she really wanted to leave and sleep at the hotel."
As Radar previously reported, the 24-year-old reality star—who is still battling a mystery illness—was scheduled to appear in court Monday, but according to the source, her doctor in NYC made Evans cancel.
"The doctor didn't want her to fly and told Jenelle that," the source said. "The doctor said that she can't go home and needs to rest."
Because of her doctor's warning, Evans got her attorney to move the mediation appointment.
"Jenelle gave her attorney her doctor's note," the source said. "So her attorney got Jenelle's mediation date that was scheduled for today rescheduled till April 4."
Evans has since been released from the hospital.
"They wanted her to stay, but she wanted to go back to the hotel and rest," the source said. "But they didn't figure out what's wrong with her."
Article continues below advertisement
It's been a tough road for Evans over the past few weeks.
Earlier in the month, Evans visited the set of The Doctors in Los Angeles where medical experts told her that all of her symptoms were caused by a birth control pill that she had been using and also from stopping the use of marijuana.
Evans quit taking the birth control, but unfortunately it didn't make her feel better.
On top of battling a health crisis, Evans has also been at war with her ex-fiance over the custody of their 1-year-old son Kaiser.
He aired a long list of allegations against Evans including that she doesn't allow him to see Kai, that she has assault charges pending against her, and many others.
Radar also reported that Evans has been subpoenaed to take the stand on April 4 to testify against Griffith in the state's larceny case against him.
The misdemeanor larceny charge stemmed from an event in February when Evans accused Griffith of taking their car and $1,000 worth of her belongings along with it.