It's Not Over! Jenelle Still Battling Mystery Illness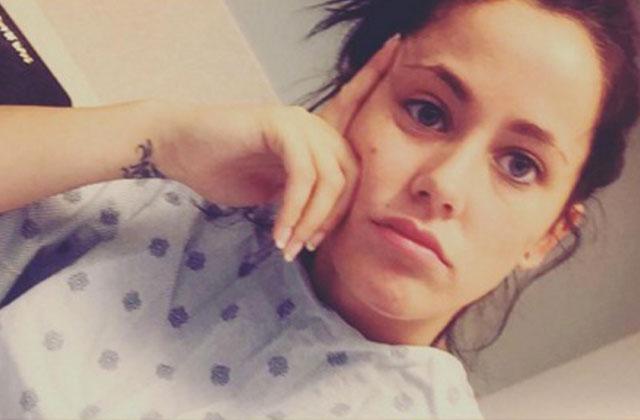 Jenelle Evans thought she had a diagnosis for her mystery medical crisis when she visited the set of The Doctors last week and they told her that her symptoms were the result of the birth control pill that she was using and stopping the use of marijuana.
But RadarOnline.com has learned that after getting that diagnosis, the 24-year-old Teen Mom 2 star—who recently went on Spring Break to South Padre, Texas—is still experiencing such severe symptoms that her own personal physicians think that something else is still going on.
Article continues below advertisement
"Jenelle stopped taking the birth control a week before she saw The Doctors," a source told RadarOnline.com. "And then they told her to stay off it, so now this is the 4th week she's been off it and she is still having the same issues."
"Today, she can hardly walk because to her it feels like her right lymph node or ovary is swollen, but no one knows," the source continued.
According to the source, Evans's doctors at home are still searching for an answer.
"Her OB/GYN in North Carolina thinks it's her pituitary gland still," the source said. "He told Jenelle, 'Everything that Endocrinologist tested you for in LA, I conducted all those same tests on you and he should have tested for more, so that's why I told you to go to an Endocrinologist here in North Carolina,'" the source said. "He said, 'If you had hot flashes and you're not on birth control, the problem could possibly be fixed by putting you on birth control. But you are already on birth control, so that doesn't explain why you are having hot flashes.'"
Article continues below advertisement
Evans's North Carolina practitioner told her that she shouldn't have stopped her birth control, but the source said that "Evans did so anyways as her own experiment to see if that was the problem."
Unfortunately, her experiment has not worked, "so Jenelle is going to see an endocrinologist," the source noted. "She sees her endocrinologist next month in North Carolina which sucks—she has to live with this until then."
The reality starlet is struggling to deal with her mystery illness.
Not having the right diagnosis yet "is aggravating to Jenelle," the source said. "Kaiser isn't in daycare, so every responsibility is put on her."
"David helps at the end of the day when he gets home from work, but she's in so much pain, she's limping around her house trying to play with Kai and keep him occupied," the source said.
As RadarOnline.com previously reported, Evans has been hospitalized many times in the hopes of finding out what's causing her to complain of restless leg syndrome, shortness of breath, loss of coordination and other serious symptoms.
According to another insider, MTV will include Evans's health issues in the upcoming season of Teen Mom 2.
"Jenelle's mystery illness will be part of her storyline," the insider said.