Inside Jenelle & Chelsea's War—What REALLY Happened Between Ex BFFs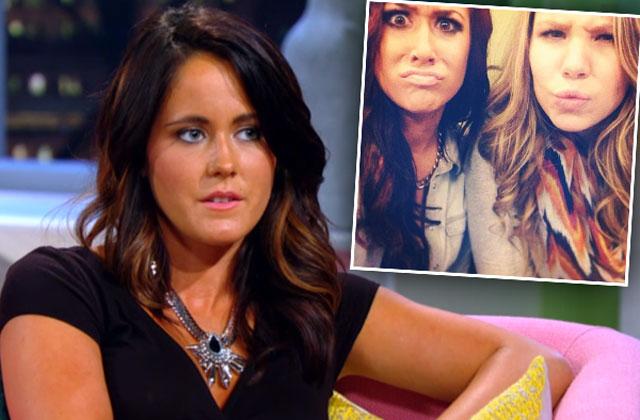 Jenelle Evans has been dealing with a mystery medical crisis and custody issues with not only her ex Nathan Griffith, but also with her own mother Barbara Evans.
But RadarOnline.com has learned that the 24-year-old Teen Mom star is now engaged in another battle, this time with her costars Chelsea Houska and Kailyn Lowry.
The drama began when Houska, 24, revealed on Feb. 29 that she's getting ready to launch a new website, Chelseahouska.com.
Article continues below advertisement
Evans launched her own new website Jenellelaurenevans.com earlier this year, so she felt like Houska was copying her.
In of series of now deleted tweets, Evans reportedly slammed her former friend saying, "monkey see monkey do…unreal" and "so over this show."
Lowry, 23, got involved when she defended Houska. "They say imitation is the best form of flattery... It's also flattering when someone thinks you're copying them. Sorry babe, but no," she wrote on Twitter.
But the website wasn't the only reason Evans got upset. According to a source close to Evans, Houska also contacted the same person that Evans is working with on a skincare line in the hopes of starting her own.
"Chelsea had contacted one of Jenelle's publicist's clients and it made Jenelle mad," the source. "She voiced her opinion, and then she was attacked by Chelsea's fans and fans of the show."
"Jenelle's working on a skincare line, has a new website, working on Potty Trainers and all of these other partnership things," the source continued. "Chelsea comes out with a website and reached out to Jenelle's skincare person—Jenelle's annoyed by the copying."
Article continues below advertisement
Houska took to Twitter  to air her disappointment in Evans's call-outs, writing to Evans's rep, "I'm a licensed esthetician. I've been planning on a skincare line since I was in school. You're not that original."
Unfortunately, this feud is anything but new.
"There is a lot of hate going on," the source said. "Jenelle doesn't speak to Kailyn anymore. She doesn't speak to Chelsea anymore. They leave her out of everything."
According to the source, Evans feels like her costars are envious of her.
"There is a lot jealousy," the source said. "They see Jenelle is in the spotlight and that she is working on branding herself a lot."
Battles between the Teen Mom girls have become a common occurrence.
"None of the girls on the Teen Mom 2 cast talk," the source said. "They just don't speak. They go on the show, and then they don't speak. That's just how the cast of that show is."