Hulk Hogan's Ex Claims He Lied In Court: 'His Testimony Is False!'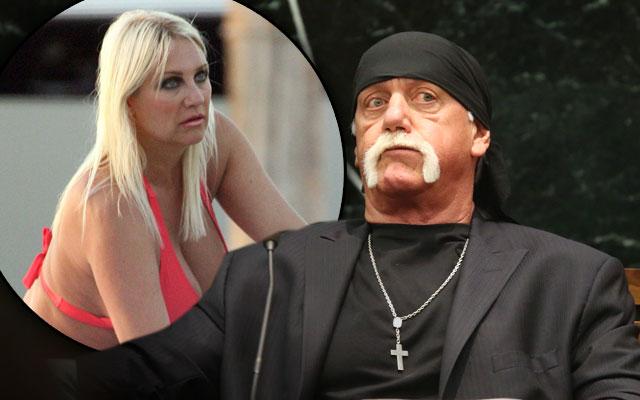 Hulk Hogan may be in the middle of dealing with his $100 million lawsuit against Gawker Media for publishing clips of a video featuring him having sex with Heather Clem, the wife of his pal Bubba "The Love Sponge" Clem, but now he is about to go to war with his ex-wife Linda.
As RadarOnline.com previously reported, during his testimony on March 7, the 62-year-old wrestler claimed that he signed up for his old reality show Hogan Knows Best in the hopes of appeasing his then-wife, Linda, who he said had her sights set on a career in Hollywood.
Article continues below advertisement
"I thought maybe the show would help our marriage," he confessed. "In my heart I thought it would really help."
But Radar has learned that Hogan's comments on the stand did not rub his 56-year-old ex-wife the right way.
"Seems like everything with Hulk is 'Linda made me do it or it's Linda's fault...'" she said in a statement to Radar through her reps. "On and on."
According to Linda, Hogan signed up for the show willingly and wasn't thinking about her happiness at the time.
"We as a family decided to do the show; no one made anyone do anything and certainly by then Hulk cared more about himself than my happiness," she said.
So Linda disagrees with Hogan's words.
"His testimony is false—Hulk has a tendency to say whatever he thinks he needs to say in his many different lawsuits (and often different depending on the lawsuit and who is asking the questions) if he thinks that will win the day," she said.
Article continues below advertisement
During his testimony, Hogan also said that he first had issues with his marriage with Linda about three years after they tied the knot. Hogan claimed that he went to Linda's mother for guidance on how to deal with Linda's personality and that she told him, "Well, you married her!"
According to Hogan, it all went down hill from there (the couple divorced in 2009).
Hogan—born Terry Bollea—also claimed that his family's reality show was staged and scripted by producers.
But Linda said that the program included real-life details too.
"The shows were soft scripted with the producers and us presenting ideas and themes," she admitted, adding, "We, though, filled in the gaps with our lives and personalities."
For her, doing reality television was about having a good time.
"We just wanted to have fun and entertain our fans and audiences who we thank even to this day," she said.
As for the fact that Hogan turned his back on his former employers, the WWE, by revealing that they predetermine who wins and loses during wrestling matches, Linda explains that also was done for fans of the fights.
"Well it is entertainment and that fact has been known," she stated. "But, it does not take away from the physical hard work, training and endurance those wrestlers go through and experience everyday to do what they do."