Gizelle Bryant & Husband Sued For Secretly Filming Woman In Her Shower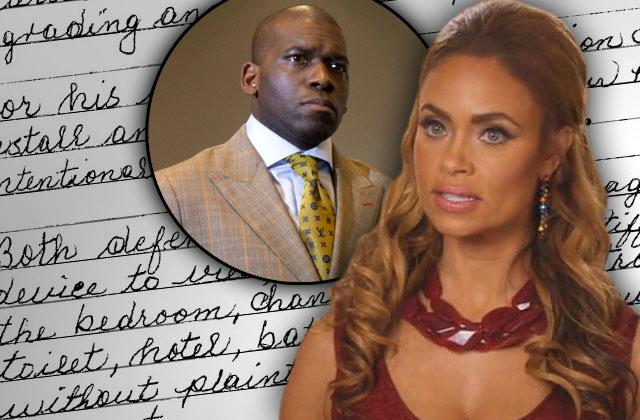 Gizelle Bryant may be dealing with her crazy costars now that she is the star of Real Housewives of Potomac.
But RadarOnline.com has learned that Bryant, 45, and her former husband Pastor Jamal Bryant, 44, were the subject of a outrageous lawsuit prior to her joining the hit Bravo show.
According to handwritten court documents obtained by Radar exclusively, on Oct. 8, 2014 a woman filed a lawsuit against the Bryants demanding that they "cease eavesdropping, wiretapping and video surveillance" on her and seeking an "unspecified amount" in damages, claiming that her live was "destroyed" after they invaded her "privacy."
Article continues below advertisement
The plaintiff, Sylvia Rolle of Brooklyn, New York, alleged that the Bryants used her for their "amusement, entertainment, and profit" and that they installed "an imaging device to view plaintiff intentionally without a consent."
According to Rolle, the Bryants used this device to "view, broadcast, plaintiff in the bedroom, changing room, restroom, toilet, hotel, bathroom, and shower without plaintiff knowledge and also consent sic."
Rolle alleged that the Bryants published and sold the images, and used the device to "broadcast plaintiff dressing and undressing… to expose intimate parts of the body."
She said that they listened to her conversations and disseminated "graphic images."
Rolle reported that she was the victim of social security, medicare, disability, and medical fraud, real estate theft, and identity theft.
She said that the Bryants "practice non-stop elder abuse," hid her funds from her, stole her vehicle identification number, used her "credentials," used "false instruments for filing income tax," read her mail, and activated "a mechanical device that permits tracking of every moment."
Article continues below advertisement
Finally, Rolle alleged that the Bryants installed "an imaging device to view, record, broadcast under the clothing being worn by same person to reveal intimate parts of the body."
On Nov. 11 of that year, United States District Judge William F. Kuntz II dismissed the outrageous lawsuit as "frivolous" and "lack of subject matter jurisdiction."
"Because the Complaint is devoid of any basis in law or fact, defects which cannot be cured by amendment, the Complaint is dismissed as frivolous," the judge wrote.