So Cold! Dakota Meyer Asks Judge To Take Sailor From Bristol On Mother's Day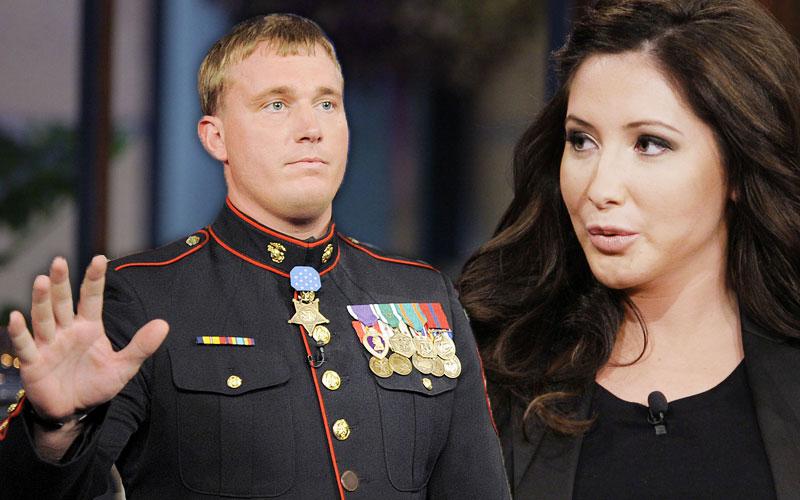 Bristol Palin and Dakota Meyer appeared to have put their feuding behind them when she posted a heartwarming photo of his visit to Alaska this week. But RadarOnline.com has learned that behind the scenes, it's as nasty as ever! Meyer has filed paperwork in their ongoing custody battle asking a judge to let him spend Mother's Day with their daughter, instead of her mom.
Palin had previously asked a judge to edit her visitation schedule with Meyer so she could spend her first Mother's Day with her daughter, born in December 2015. But in court documents filed on March 14, Meyer hit back and said he wasn't backing down.
Article continues below advertisement
READ THE SHOCKING COURT DOCUMENTS
Meyer's attorneys asked the judge to set visitation for Mother's day from 9 a.m. To 6 p.m., noting that "Ms. Palin originally had proposed visitation on that day … and that proposal was relied upon by Mr. Meyer in making his travel plans" from Kentucky to Alaska.
"That will still provide Ms. Palin time with Sailor on Mother's Day, but will also allow Mr. Meyer, who is traveling across the country to see his daughter, to spend time with her that day as well," they claim.
"There is no valid reason to deprive Mr. Meyer of visitation with Sailor that day simply because it states on the calendar that it is Mother's Day," the documents continue. "Mr. Meyer cannot change his work and travel plans, which have already been made to move the visitation that was planned and ordered for that day … and it would be unreasonable at this juncture to expect him to do so.
As Radar has reported, Palin, 25, and Meyer, 27, have been locked in a nasty custody battle since Sailor's birth on December 23, 2015. The couple broke up in May, just weeks before they were set to wed.