Big Ang 'Didn't Want Me There' Estranged Husband Reveals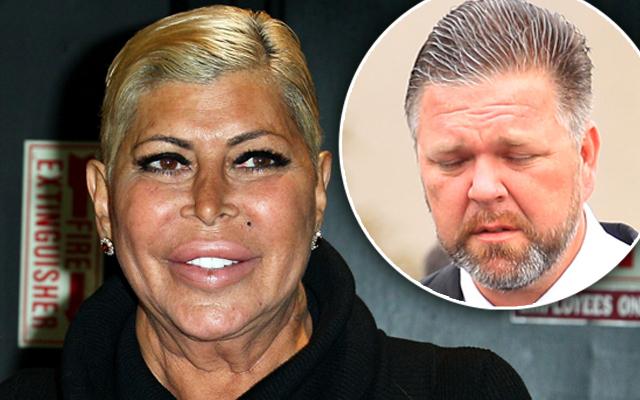 Big Ang wanted nothing to do with her estranged husband in the days before her death, but the Mob Wives star's wishes were ignored by the man she banned from her life.
Neil Murphy was married to Angela Raiola but she revealed that when she was diagnosed with cancer he "abandoned her." She passed away on February 18, 2016, but he confessed in a new interview that he defied her last wishes.
"I was there at the end," Murphy tells Entertainment Tonight's Jennifer Peros. "I never left her side. I went to every procedure -- even though she didn't want me, I went. I was there at the hospital for the last two days with her. I mean, to me, we weren't 'estranged.'"
Article continues below advertisement
Big Ang was outspoken about the fact that she had ended things with Murphy, but he tuned her out and badgered her to the end.
"She didn't want me there, I didn't want to argue with a sick person," he revealed to ET.
RadarOnline.com exclusively reported that Murphy was by her side at the moment of her death, and he confirmed the news.
"I was on the phone with her every day. I talked to her before chemo, after chemo. When she had a couple of procedures done, she was in the hospital for a day, I was there. So, I wouldn't call it estranged. It was just, you know, she was going through a rough time and she, I guess, took it out on me. And I wasn't going to fight with her. I didn't walk away or...left her. I was there."
Murphy claims that she made the decision to push him away when she was diagnosed with her fatal cancer.
"She fell apart when she got sick, and she didn't want me around," he said. "Doctor told her that stress...makes cancer get worse, and she said that I give her stress."
However, Murphy claims that she was happy to have him by her side. "But when I was at the hospital, she was always, 'My husband...my husband's here, my husband's here,'" he recalls. "So, I don't know, I guess that's the way that people wanted to brand it, that I was 'estranged,' but you know, I was there."
Article continues below advertisement
Big Ang's last moments were spent with loved ones, including Murphy, he claims.
"I was lying in bed with her the day before, but she was kind of out of it. I was trying to calm her down, so I was just rubbing her back for like an hour trying to put her to sleep. That was the last time we spent together."
He told ET the he will miss her "keeping him in line" and "yelling" at him.
"You know, we had a lot of good times together," the late reality star's husband said.. "It was a crazy life at the end, you know. We were regular people, then she became a celebrity. It was kind of a crazy life being married to her, but it was good. I would never change anything."
Tune into Entertainment Tonight this evening, March 9, 2016 for Big Ang's husband's interview. Check local listings for air times.