Exclusive
'Vogue' Staffers Slam 'Horrible' Kanye & Kim For Ruining Fashion Bible's Image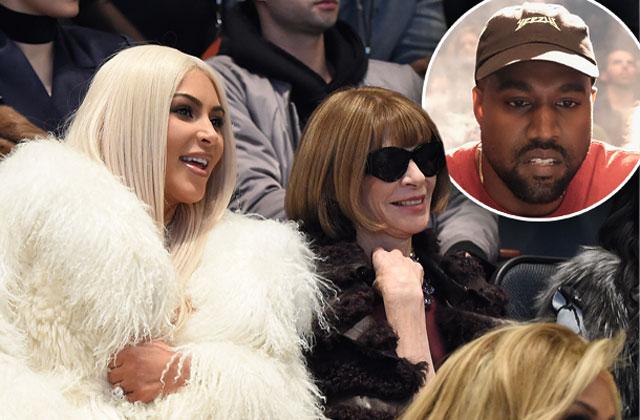 Kim Kardashian and Kanye West are tarnishing the Vogue brand, according to disgruntled staffers of the fashion glossy, who are seriously questioning Anna Wintour's motivation for continuing her relationship with the headline-grabbing couple.
West and Kardashian infamously graced the cover of Vogue's poor-selling April 2014 cover — but the two continue to be featured on Vogue.com, much to the dismay of the digital team.
Article continues below advertisement
"Vogue.com was the arbiter of style and class," complained one insider, who disapproved of the site's Yeezy Season 3 coverage. "Featuring Kim and Kanye on the website is just horrible for the brand."
"There was so much backlash after the April issue that the coverage should have been dialed back," continued the insider. "It wasn't and has only increased — just because Kim and Kanye are shameless self promoters doesn't mean Vogue.com needs to jump on the bandwagon!"
But Wintour, who attended Kanye's recent fashion show collection at Madison Square Garden, may be souring on her famous friends. She didn't mention West's brand as one of her favorites among the fall 2016 collections.
"I wish the designers had taken a little bit more risks and the ones that did really stood out," noted the famed editrix, who praised Rodarte, Proenza Schouler, Alexander Wang and Calvin Klein.
Article continues below advertisement
And in another major slight, Vogue's 2015 Met Gala Special Edition featured a cover photo of Rihanna, alongside a list of several celebrities' names, including Kardashian's 19-year-old model half-sister Kendall Jenner, as well as Beyonce, Jennifer Lawrence, George and Amal Clooney, Derek Jeter, Jennifer Lopez, FKA Twigs, Robert Pattinson and Lady Gaga.
Noticeably absent was Kim Kardashian.
One possible reason? As RadarOnline.com previously reported, Kardashian, 35, disobeyed Anna Wintour's wishes by posting selfies on her social media during the event, despite an announcement that guests were forbidden to do so.
A Vogue spokesperson declined to comment, but another source told RadarOnline.com, "Vogue.com doesn't feature Kim and Kanye any more than other entertainment websites. When Kanye has a fashion show, it has to be covered because he is a designer, or when he releases a album, it's also covered. The context is important."