Maci Bookout Accused Of Drinking Alcohol While Pregnant On 'Teen Mom'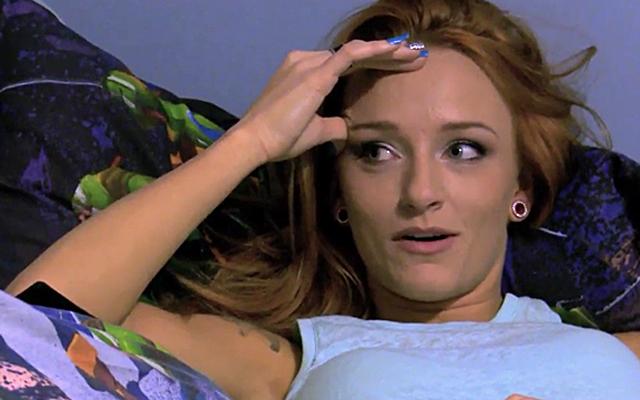 Maci Bookout is one of the few Teen Mom stars to stay out of trouble, but her current scandal may be her fall from reality TV grace! The Teen Mom OG star is being accused of drinking alcohol while pregnant by fans after she chugged a beer on the show's season finale.
Bookout, 24, announced that she expecting her third child at the end of May with her fiancé Taylor McKinney.
Fans speculated the MTV star drank while pregnant when she was photographed holding a beer seven weeks ago. But the season finale, which was filmed at the end of December, continued to fuel the rumors when fans noticed the mother-of-three drinking a cold one.
Article continues below advertisement
"Every scene of @MaciBookoutMTV shows her drinking beer and she knows damn well she's pregnant," once user wrote, while another tweeted, "You are so busted on the episode around Christmas you were drinking a beer at the restaurant!"
Bookout could also be seen with a noticeable baby bump.
"There is no way someone that tiny didn't know!!!," a user commented on Instagram, as another posted, "There's no way being 4 months at the time you wouldn't know being pregnant in this episode."
Bookout, who declined to comment on the story, revealed that she found out about the shocking news two days after her fiancé proposed to her in January, which was after the scene was filmed.
"I was at the doctor, ironically, to get my birth control prescription refilled," she told Us Weekly. "I laughed at her! I mean, she's the doctor that delivered Jayde, so I was like, 'Ha ha, that's a funny joke — but it's not really that funny!'"
Do you think Bookout knew she was pregnant? Sound off in the comments below!