Superbowl Scandal: The Moment QB Peyton Manning 'Exposed Himself' To Female Trainer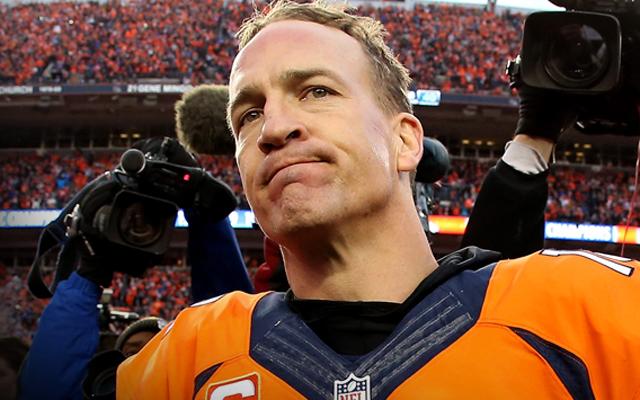 Peyton Manning is looking forward to battling it out at the Super Bowl this weekend. But RadarOnline.com has learned he's been taking hits behind the scenes for years: Back in college, a female personal trainer accused him of sexual harrassment!
A new report claims the Denver Broncos quarterback was accused of sexual harassment by Jamie Ann Naughright (then Whited) after an alleged lewd incident in the locker room back at the University of Tennessee, in 1996.
Article continues below advertisement
According to documents published by The Smoking Gun, Naughright was "performing therapy" on Manning's foot when he "pulled his pants down and exposed himself to me."
READ THE SHOCKING COURT DOCUMENTS
She claimed in the report of the incident that Manning began "asking me several personal questions" including "who she hung out with" and "what she did on weekends," that she felt were "inappropriate."
Naughright claimed that "she was working on his foot when she heard laughter and looked up to see his exposed rear end."
After Naughright reported the incident, the University reprimanded Manning, forcing him to run for two weeks at 6 am under the supervision of his coach and banning him from the dining hall for two weeks. He also apologized to Naughright for the "misunderstanding."
She filed a lawsuit against the university for sexual harassment, however, and gave testimony describing exactly what she claims she saw when in the locker room with Manning.
Article continues below advertisement
"It was the gluteus maximus, the rectum, the testicles and the area in between the testicles. And all that was on my face when I pushed him up," she said in a court document. "To get leverage, I took my head out to push him up and off."
She ended up settling the suit for $300,000 and the terms were confidential, but Manning blasted her in a book he co-wrote with his father, Archie Manning.
In Manning: A Father, His Sons, and a Football Legacy, he claimed his actions were "inappropriate," and "crude, maybe, but harmless." He also called her a "vulgar woman," and claimed that he was actually mooning a teammate.
Still, the woman filed a defamation lawsuit against Manning, claiming that she was harassed at her new job because of his book. They settled for an undisclosed amount in 2003.
A fellow athlete also refuted Manning's version of the incident in his book. Malcolm Saxon wrote a letter to the football player denying he was mooned and begged him to "maintain some dignity and admit to what happened … Your celebrity doesn't mean you can treat folks that way … Do the right thing here."
Article continues below advertisement
Manning's father spoke about the incident in 2003, telling the Associated Press, "He felt it was his mistake, he tried to apologize and he was remorseful. He got punished and he took his punishment."
But that wasn't the end of the situation. In 2005 Naughright took Manning to court again for breach of contract, claiming that when he spoke about her on ESPN, saying she had taken "advantage" of him he violated their agreement.
Manning is heading to what many speculate will be his last Super Bowl on February 7.