Exclusive
Double Blow! Kim Richards Reeling After Ex-Fiancés Killer Up For Parole — After Ex-Husband's Death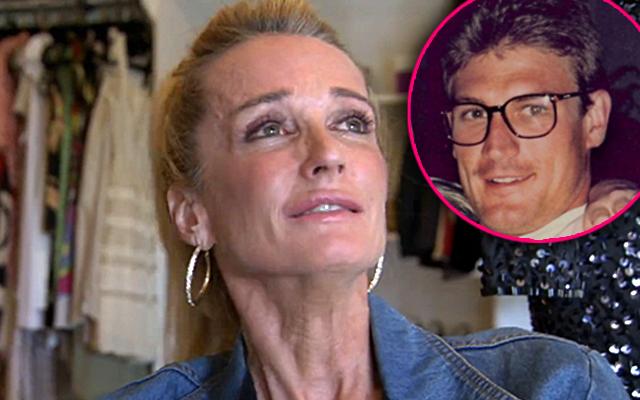 RadarOnline.com has exclusively learned that the man who shot to death Kim Richards' first fiancé recently appeared before the California Board of Parole in a bid to win his freedom.
The news comes on the heels of the 51-year-old Real Housewives of Beverly Hills star's devastating loss of Monty Brinson, her ex-husband with whom she remained close. He died last month at her home after a battle with cancer.
Article continues below advertisement
Long before Brinson's death, Richards' life was shattered the first time when her then-future husband, commodities salesman John J. Collett, was gunned down in the San Fernando Valley in October 1991.
The shooter, Marva De Carlo Johnson, then 29, was arrested and eventually sentenced to serve 30-years-to-life behind bars for the crime.
Testifying before the parole board last September, Johnson, now 54, denied he killed 29-year-old Collett on purpose, calling Richards' fiancé "some kind of gangster and I feared for that."
Article continues below advertisement
Johnson admitted to having anger issues and said he wishes he could "play it all over again." He also stated that he had written a letter of remorse and was not "fighting to get out" of prison.
However, the commission, citing their belief that Johnson was a hired hitman, said he was "not being honest with himself or the panel" and rated him a "moderate risk" for release.
"You just want to take a long look at how you're going to get out of this mess," one commissioner told Johnson, who was eventually denied his freedom.
Johnson will be up for parole again in 3 years.
The convicted murderer read a letter to the panel, stating that he is "sorry for the pain and suffering" Richards and his family has dealt with and that he is "no longer the individual who caused so much anguish."
Collett's mother, Jan Collett, previously told RadarOnline.com that she thought her son's killer remains "very dangerous."
"He never confessed who the person was who hired him," she explained. "If he's going to be paroled, he's to be back in same situation. It's very dangerous because he has never confessed who hired him to kill my son and these other people. If he were to confess everything that is a different situation."