Kenya Admits She'd 'Rather Gouge' Her Eyes Out Than Talk About Kim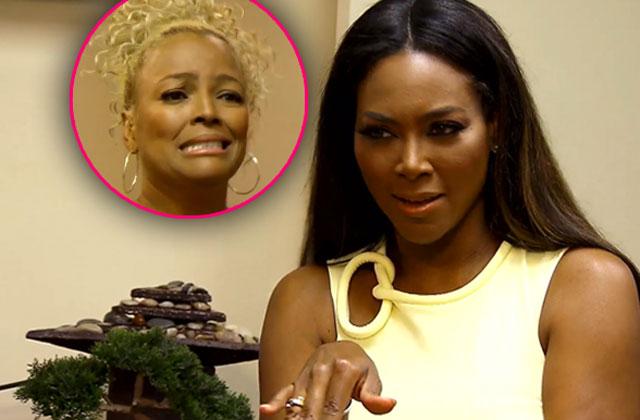 The drama between Kenya Moore and Kim Fields is only about to get more intense.
In a preview for the upcoming episode of Real Housewives of Atlanta, Moore, 45, slams her 46-year-old costar for their ongoing feud.
The conversation starts out with Moore complaining about Field's behavior and Cynthia Bailey's commercial.
"Kim wasn't willing to work with anyone else on the commercial," she said during a seated, group dinner. "She wanted to be the one-man show. My thing is, let them run it without me."
Article continues below advertisement
Bailey's husband Peter Thomas interrupts Moore and asks her what's creating all of this hate.
"You guys have been beefing, and it means a lot to Cynthia that you guys kill all of that," he said. "So what's the problem with you and Kim?"
"That's a good question," Fields replied.
But Moore doesn't want to talk about it.
"Really?" Moore said. "I mean it's like boring at this point."
But Thomas eggs her on by claiming the fight has messed up Bailey's commercial.
"Oh no, don't put that on me because you don't have your facts straight," she said.
Thomas tries one more time to get Moore to talk about it.
But instead of giving in, she decides to rip Fields instead.
"I actually would rather take a spoon off the table and gouge my eyes out one at a time than talk about this another minute," she said. "Yeah, it's that deep."
"I would like to just take one of these lanterns and set my *** on fire than talk about this," Moore continued. "Should I keep going? I would rather go hitchhike a truck and drive myself off a cliff and that's where it is."
Fields then attempts to share her side of the story, but Moore gets up in the middle of her speech and leaves stating she is "bored."
As RadarOnline.com previously reported, during the last episode, Fields hosted a makeup-free brunch.
But Moore felt like the invitation was Fields's way of suggesting that the women wear too much makeup.
The two then got into an argument about Fields's intentions.
Tune into Bravo to see how this drama plays out on screen. RHOA airs Sundays at 8 PM ET.