Kenya Moore And Kim Fields Argue Over Makeup 'Insult' And 'Natural Beauty' Diss At Group Brunch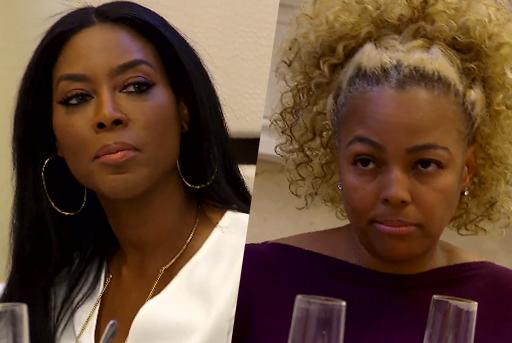 Kim Fields' makeup-free brunch turned out to be a dramatic mess when some of her castmates didn't exactly agree with her comments about "natural beauty" during Sunday night's episode of The Real Housewives of Atlanta!
In an attempt to connect with the RHOA ladies, Fields organized a brunch at her home for her girls. But she had only one rule — that her castmates had to wear as little makeup as possible.
Article continues below advertisement
A few of the women came to the brunch with close to bare faces. But several others made a statement by exercising their right to rock a fierce beat wherever they choose — including a makeup-free get-together!
Despite her slight frustration over her request being ignored by some of the ladies, Fields continued her attempt to connect with the brunch attendees by asking they do a little creative exercise!
"I want to invite you to write a little poem about natural beauty," she said.
However, Moore remained unimpressed by Fields' statements on the importance of going all natural once in a while, taking a major dig at the actress in her confessional!
"Where does the natural beauty end. Because you've had two boob jobs and you're wearing a wig. Is that a part of your poem?" an annoyed Moore questioned.
And she raised her issues during the brunch as well, offering her take on why wearing makeup isn't a bad thing.
Article continues below advertisement
"I think that makeup has always been part of self expression. Back in the day, to the Egyptians or the Grecians, we adorned ourselves with clay and crayon," Moore said.
"I'm actually living for the makeup history lesson," Cynthia Bailey admitted in her confessional. "I would have gave you fierce cave girl beat, honey!"
And she added her take on the makeup convo as well.
"On behalf of the president of the smokey eye foundation," Bailey began, stirring several laughs from her castmates, "I don't think anybody is just walking around the house everyday with makeup on. But if I'm coming out in public, you've got to make sure you look good."
And Porsha Williams added, "You never know when somebody is going to want your picture."
Shereé Whitfield agreed as well, saying that everyone does want to take pictures and "I'm always like, 'Oh! I look a mess.' And they don't care. They just want to take a picture."
Williams added that a lot of people aren't "as comfortable" as others to walk around with no makeup on.
Moore then jumped into the chat again, saying, "You can't pinpoint that to makeup, though, because I think that all of us enhance our beauty in different ways. It's weaves and wigs," she said. She then asked Fields, "So does that mean we're taking wigs off now? Are we taking bras off?"
Article continues below advertisement
Kandi Burruss even had a little shade to throw as well, admitting that her castmates "aren't trying to be beatless anywhere!"
"Unless you're talking about trying not to get a beatdown," she joked. "But beat, as far as their makeup, oh, they stay beat!"
Fields said she was glad the topic of makeup was sparking an engaging conversation among the ladies. But Moore quickly addressed her issues with the whole purpose of the brunch!
"The reason that you invited us is because you feel that we wear too much makeup?" she asked Fields with a side-eye.
"Lord, no," Kim said. "That's why I sent you guys that audio message so that you could really understand what I was saying," Fields replied.
>Moore then replied, "I appreciate you inviting me here and I was happy to come. But when I listened to it and you said that we needed to be reminded that makeup is to enhance our beauty, I did feel like that was a bit of a jab or an insult. I did take umbrage to that"
Article continues below advertisement
Fields attempted to explain to Moore that she meant no disrespect in the message that she sent. However, Moore called her out for "doing the dismissive thing again," leading the two to end their conversation without really resolving their issues!
And when Bailey offered the opportunity for both Moore and Fields to assist her with her upcoming commercial shoot for her eyewear line as they left Field's home, Fields took one final dig at Moore as she told all the ladies goodbye!
During the rest of the episode, Moore and her boo Matt Jordan enjoyed a little quality time working on her Moore Manor. Burruss and Todd Tucker planned for their coming son Ace Wells. And Parks also spoke with her attorney about moving forward with her divorce from her estranged husband, Apollo Nida.