Kim Rips Kenya & Costars: 'Don't Let Me Cut These Chicks Right Now'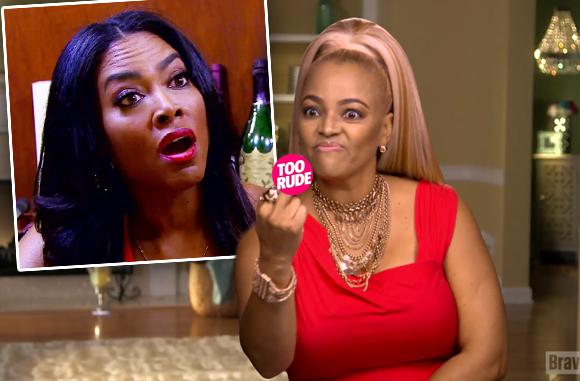 Kim Fields and Kenya Moore's never-ending feud is about to reach an all-time fever pitch.
During the last episode of Real Housewives of Atlanta, Moore, 45, shared a rumor with her costars that Kim Fields' husband Christopher Morgan might be gay.
In a preview for the upcoming episode, Moore is on a collision course when she, Sheree Whitfield, Porsha Williams, NeNe Leakes and Cynthia Bailey confront Fields about the rumors.
Article continues below advertisement
"So Kim, last night there were some things said about your husband being fruity or gay," Whitfield said to kick off the conversation.
This comment seems to catch Fields, 46, off-guard, but after collecting herself, she freaks out.
"Don't let me cut these chicks right now with my mouth," she warned in a confessional.
"Chris is definitely a wonderful husband and father," Fields said to the group. "We've been together happily for 10 years and it's good."
Whitfield then shares that reports on the internet raise questions about Morgan's sexuality.
"Because I like to keep it real, Phaedra, Porsha and I, we did google your husband," she said, adding that the results yielded a headline that read, "Kim Frields and Her Fruity Baby's Father."
But when Moore asks Fields if she had heard the rumors before, the former Living Single star says she has not.
Moore then takes the opportunity to dig into Fields.
Article continues below advertisement
"I don't think we really care either way if your husband is gay or whether or not you guys are having tax problems, or any other kind of problems," Moore said. "You portray like everything is perfect… it's not really perfect. So we just want the real Kim Fields to show up."
"This isn't even instigation or information," Fields told the cameras. "This is bats*** crazy right here."
Moore continues on her attack.
"You have this wall up and it's almost like you're reading from a script," she said.
This causes Fields to throw up her middle finger.
"Sheree was the first to open up the pot, but Kenya couldn't wait to get in there and start stirring it all up," Bailey explained. "I just wish that she would show Kim a little more respect, or just respectfully leave her alone."
As RadarOnline.com previously reported, Fields and Moore have been at odds for weeks now.