Kenya Moore Exposes Gay Rumors About Kim Fields' Husband Christopher Morgan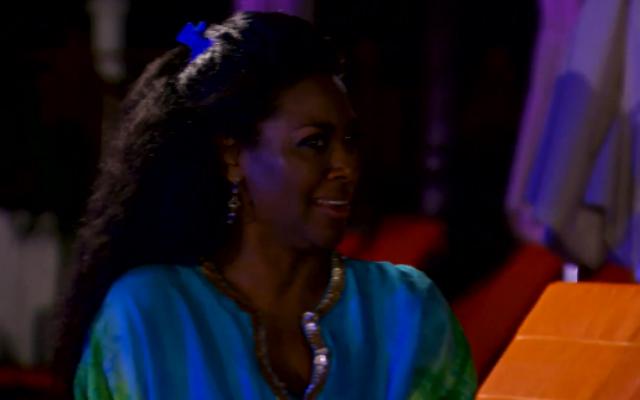 Kenya Moore took her feud with Kim Fields to a new level when she shared a rumor about her husband Christopher Morgan while chatting with her castmates in Jamaica during Sunday night's episode of The Real Housewives of Atlanta!
Moore brought up the new gossip while chilling poolside with the RHOA ladies after NeNe Leakes asked why Fields wasn't spending the night with them!
"Maybe she went to spend the night with her man," Porsha Williams guessed, prompting the other girls to toss out their own opinions on where the RHOA newbie may be.
Article continues below advertisement
"What's his name?," Williams said, "Chris?"
Phaedra Parks then went on to add her thoughts on Morgan, saying that she thought he was a nice guy but just a little "sassy".
"He's definitely got a little fire in his fireplace," Parks said in her confessional.
"He's got personality," Parks then told the girls as they continued their conversation.
"He would have to. He's married to Kim," Moore then commented, sparking a laugh from Leakes.
"That is a weird couple. I'm sorry," Moore added.
"He's got a lot of personality that Kim doesn't have," Leakes said. Leakes then added that she felt Morgan was too overprotective of Fields in a slightly "weird" way.
Williams then described Morgan as being just a little "delicate" when it came to situations, leading Moore to finally share the "rumors" she's heard about Morgan.
"I know you've heard the rumors," Moore said, causing all the girls to chime in with questions about what Moore has been told.
Article continues below advertisement
"They call him Chrissy," Moore said, drawing some shocked faces from the girls. Moore added that people in "the industry" knew him by that nickname.
In her confessional, Cynthia Bailey admitted she wanted "no part" of the conversation about Morgan. But the other RHOA ladies continued their chat.
"I have been in Hollywood for 20 years. I have worked with her when she was on Living Single, honey," Moore said. "He's called Chrissy. And I"m not talking about Three's Company."
"For the last 10 years, there have been pervasive rumors about Kim's husband. Whether it's Tootie and Fruity or Kim and Chrissy, they exist," Moore said in her confessional.
"Well he told me that he's a Broadway actor," Leakes continued.
"Was he playing Roxy?" Moore then joked. "He might be a Broadway actress."
"This is real tea. His name is Chrissy!" Leakes said. She then added in her confessional, "In my time around Chris, I can't tell you if he can host Fashion Queens or not. But he has been on Broadway, he says, a few times. And he does tap dance, okay!"
Article continues below advertisement
"You've done spilled all kinds of tea over there," Williams said.
And in her confessional, she offered her opinion on the situation. "I never got a gay vibe from Chris," she said with a smirk and chuckle.
"You can only suppress that urge so long," Moore said to the girls.
"The urge! What does he have the urge to do!?" Parks then questioned.
"Yeah, what is he about to turn into," Williams exclaimed.
"You better go check his purse!" Moore added with a laugh.
"I don't think it's right to talk about Kim or her husband and she's not here to defend him,"Shereé Whitfield admitted. "If Chris wants to run away on the weekends with boys and come back during the week and be a family man, that is his business."
Whitfield ultimately decided to confront Fields about the rumors surrounding her husband during the party for Bailey successfully wrapping her commercial shoot.
"Last night you didn't make it out to the pool. There were some things said about your husband that were not very flattering," Whitfield said. "I like to keep it real and tell the truth. I just want to let you know that some of the things that were said last night were about your husband being fruity or gay."
And Fields wasn't at all pleased with the chatter about her man!
Elsewhere during the episode, Bailey shot her commercial for her eyewear collection with the help of her RHOA castmates. And Moore addressed her issues with Bailey while cozying up even more to her sweetie Matt Jordan!