Secret Restraining Order! Eileen Davidson's Divorce Papers Reveal Rocky Past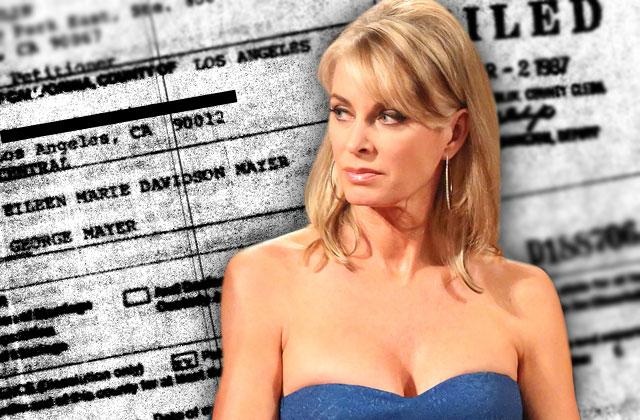 Eileen Davidson's dark past is worse than the world knows! RadarOnline.com has uncovered documents from her divorce from her first husband, Christopher Mayer, and they reveal that both she and her ex were served with a restraining order as part of the proceedings.
Soap star Davidson and actor Mayer were only married for six months, from August 16, 1986, until March 1, 1987. Their divorce wasn't finalized, however, until 1988. And there are other signs that it was a messy one.
Article continues below advertisement
Divorce documents uncovered by RadarOnline.com reveal that both Davidson and her ex were served with a restraining order by the court.
A provision in the divorce judgement states, "Eileen Davidson and George Christopher Mayer are ordered restrained and enjoined from annoying, molesting, or harassing each other directly or indirectly in person, by mail, telephone, at either of their respective residences, places of employment or any other place."
The former couple had no children together. Mayer was a television actor, appearing as Vance Duke on The Dukes of Hazard, and passed away at the age of 57, in 2011 of natural causes. He had been married three times and was engaged at the time of his death.
Such a provision did not appear in the documents from her divorce from Jon Windstrom, which took place three years after her 1997 wedding to him. She has been married since 2003 to Vincent Van Patten, and the couple have one son.
Davidson has nothing bad to say about any of her exes, but she has recently claimed that some of her other lovers, not these men, beat her.
On a recent episode of RHOBH she admitted, "I've been in extremely physically abusive relationships."
"I think it's important that people know that you can come out of abusive relationships," the mother-of-one said. "You don't have to keep going through the same cycle over and over again and I'm here to tell the tale."