Exclusive
Brad Pitt 'At His Wit's End' Over Angelina Jolie's Hate For His Best Pal, Ed Norton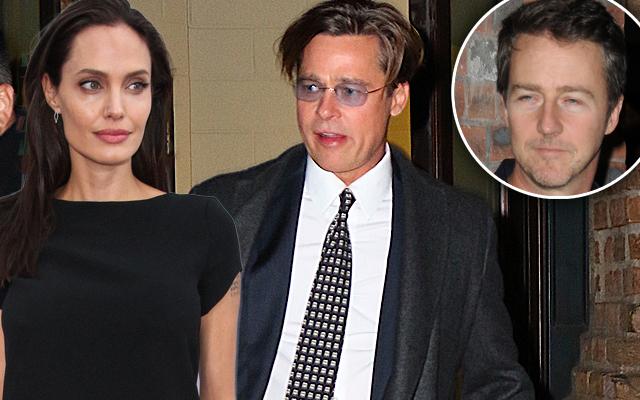 Hell hath no fury like Angelina Jolie when she thinks she's been scorned! RadarOnline.com has learned that the actress and her hubby, Brad Pitt, are at each other's throats over his choice of friends, including his best pal, Ed Norton.
"Angelina has always thought Ed's a shallow underachiever who brings out the immature side of Brad," sniped a source, "and she's not impressed by his wife," Canadian producer Shauna Robertson.
Article continues below advertisement
Unfortunately for the diva Jolie, she's going to be seeing a lot more of Norton in the coming months. The 46-year-old actor and Pitt, who co-starred together in Fight Club are teaming up on a new HBO miniseries, which will also star Tom Hanks.
The two buddies are also talking about producing a long-awaited sequel to the 1999 movie that first made them famous.
As a result, Pitt, 52, and Norton have been spending many a late night together in New York, LA and Europe, going over the projects and having fun hanging out — much to Jolie's chagrin.
"It's something Brad's tried to reason with her about over and over, but she's knocked him back time and again, saying these people aren't good enough for them," noted the source of Jolie, 40.
"Brad's at his wit's end — he's so tired of Angelina sabotaging his friendships," added the source. "It's like she can't bear to ever see him happy."