Exclusive
Al Cowlings Confesses To Porn Star After Nicole's Murder That O.J. Did 'Something Terrible'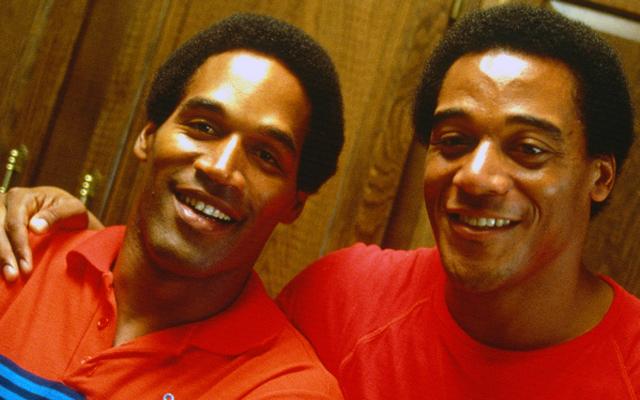 O.J. Simpson's loyal friend Al "A.C." Cowlings blabbed to a porn star that the ex–football great made a chilling confession to him on the very night O.J.'s former wife, Nicole Brown Simpson, and her friend, Ron Goldman, were slaughtered.
X-rated beauty Jennifer Peace, 45, told RadarOnline.com Cowlings said the former NFL pro contacted him on June 12, 1994, just after the grisly massacre.
"O.J. called me — hysterical, freaking out," Peace said Cowlings told her.
Article continues below advertisement
"He kept saying over and over: 'I didn't mean to do it. I've done something terrible. I didn't mean for things to turn out this way.'"
Cowlings, who drove the white Bronco with Simpson huddled in the back during the notorious slow-speed chase, may have also betrayed his friend to wrinkle-faced Rolling Stone guitarist Keith Richards.
In a book his publishers labeled as "literary fiction," Simpson trial watcher Dominick Dunne said in Another City, Not My Own that starstruck Cowlings wanted to impress Richards so he could hang out backstage with him during the band's Voodoo Lounge concert in Pasadena, Calif., in 1994.
"The more Keith resisted him, the more he told him about the night of the murder," wrote Dunne, who got his info from a source close to the Stones.
Richard's spokesperson did not comment to RadarOnline.com.
Cowlings was 47 and Simpson's best friend when he drove The Juice down the freeway before the all-American football star's surrender to police on June 17.
Simpson reportedly held a gun to his head most of the ride, threatening to kill himself, during the chase viewed around the world.
Cowlings was later arrested for aiding a fugitive but prosecutors declined to formally charge him, citing a lack of evidence.
Amazingly, during Simpson's trial, Cowlings set up a 900 number, charging callers $2.99 a minute to hear his thoughts about the case! But he never revealed Simpson's explosive confession.
Despite the 900 business, Cowlings filed for bankruptcy in 1997.
Cowlings' spokesman, Edward Lozzi, told RadarOnline.com the case has made his client's life "miserable," and he "just wants to disappear."