Tori Spelling Slams Her Mom In Interview With Lena Dunham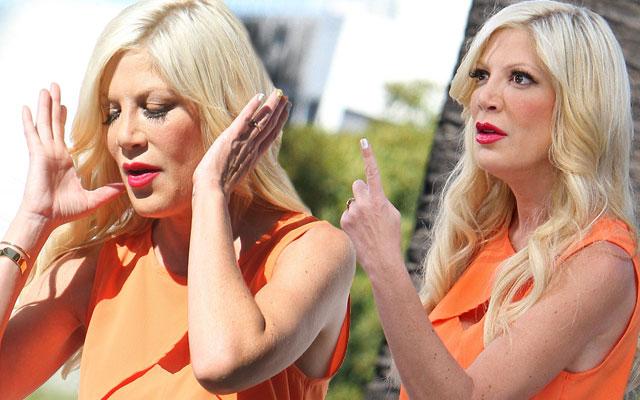 Tori Spelling was devastated when she found out she was having a daughter - and she says it is all because of her tense relationship with her own mother, Candy.
In an interview with Lena Dunham, the 42-year-old Hollywood kid turned reality star digs deep, revealing her disconnect with her mom, who, as RadarOnline.com reported, recently spoke out to the press regarding Tori's financial difficulties and extravagant lifestyle.
Article continues below advertisement
"I would always ask my dad, 'Why is Mom like this to me,'" Tori said. "He would tell me, 'She had a really bad relationship with her mom. Her mom was like that with her. There was a lot of competition. It was complicated.'"
Then, when she got the news that she was expecting her first daughter, she began to panic, worry that she would end up like Candy, or "Mommy Dearest" as Dunham calls her. "When I found out I was pregnant with a daughter, I thought, F*ck. I am screwed,"she said. "I cried when I found out I was carrying a daughter. I didn't know what to do. I thought, I'm going to repeat the past. This is just the way it goes."
Despite her fears, Tori discovered that with effort, she could overcome her own past, and make her relationship with her four children her own. "I just reminded myself every day I'm not my mom. I'd think, What would make me different? What's my instinct of what would make that different? My instinct was touch. I just wanted to hug Stella and hold her and tell her how beautiful she was and make eye contact."
However, Candy disputes Tori's recall of the facts, with her rep telling Page Six, "It's disappointing to see that Lenny would resort to name-calling since, as I understand, it was created to empower and support women. Candy loves and supports her daughter."