Tila Tequila Starts GoFundMe Account To Beg Fans For Cash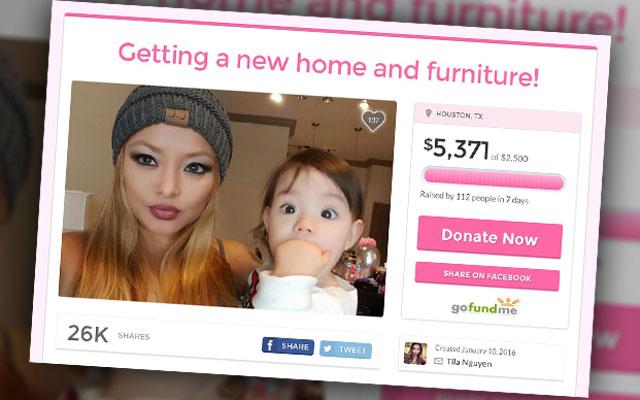 It seems reality star Tila "Tequila" Nguyen may need a reality check!
Nguyen recently created a GoFundMe campaign to beg fans for money so she could move into a new home and buy brand new furniture.
"The reason why I am creating this GoFundMe campaign is because they have raised the rent at my old home to $4,500 a month, and being a single mother without any support from the father, it can sometimes be very tough taking care of 2 people with only a 1 person income," wrote Nguyen, who is mom to Isabella, her 1-year-old daughter with ex-boyfriend Thomas Whitaker.
Article continues below advertisement
"So right now I need to raise some money so that I can move into my new home and get it furnished for my daughter and I," continued Nguyen.
"The last apt I was at came fully furnished and that's why it was so expensive, but I'd rather save money for my daughter than keep wasting money each month like that. So I basically need to buy all the furniture and beddings from scratch to start over if we are to move. It is going to cost a lot to start off, and that is why I am asking you all for your help!"
Commenters on Nguyen's GoFundMe account were ruthless in their assessment of the single mom's situation, and many suggested she go find a job.
"Everyone knows she has a net worth of $1.5 million, right?" asked one woman, who suggested people "go donate to the homeless" instead.
"Hi Tila," wrote another. "I suggest that you change the information on your fund. It should be changed for the intention of getting psychological help. You are clearly delusional."
Article continues below advertisement
"I honestly can't even believe someone would pay you," sniped another.
However, others were sympathetic to Nguyen and actually anted up money to help her more than double her original $2,500 goal.
"Oh my God! I cannot believe we actually not only reached our goal, but have actually gone PAST it!" gushed a thrilled Nguyen. "This is truly a humbling experience, and has definitely restored my faith in humanity!"
As a reward, Nguyen promised to give all donors "a personal phone call" soon.
"We FINALLY can move into our beautiful, new home, and get it all furnished THANKS TO SOME OF YOU! So after we get all nice and settled I will give you a call!" added Nguyen.
What do you think of Tila's approach to making some extra money? Sound off in the comments below.