First-Class Philanthropist! Sean Penn's Haiti Charity Paid For Luxury Travel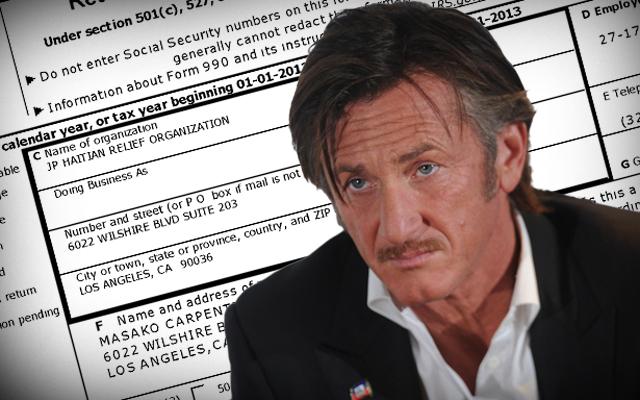 Sean Penn's Haiti charity paid for his first class travel, IRS tax records obtained by RadarOnline.com reveal.
According to the 2013 tax return for Penn's J/P Haitian Relief Organization, $126,150 was spent on travel expenses in just one year.
Why the splurge? A supplemental form claims that the expense was necessary "due to his celebrity status and for consideration of his safety."
Article continues below advertisement
The tax returns also state that the organization also paid Casbah Productions $278,069 for handling an annual celebrity fundraiser.
The charity gave more than 13,000 Haitians debit cards totaling $3,000,000 for relocation services from camps in the quake-ravaged country.
Penn, 55, recently made headlines for conducting an interview with the Mexican kingpin El Chapo for Rolling Stone magazine before the drug lord's recapture.
And on Jan. 9, Penn was photographed holding hands with ex-wife, Madonna, at Penn's Annual Help Haiti Home Gala. Madonna, 57, and Penn posed happily with two of Madonna's children, Mercy and David.
UPDATE:
A rep for the J/P Haitian Relief Organization told Radar, "The statements ... are incomplete and misleading. J/P HRO's 2013 Form 990 is a public document which can be found on the J/P HRO website and on the website of the Secretary of State of the State of California. The complete Form 990 shows that the $126,150 reported by Radaronline.com represents travel expenses for the ENTIRE organization, which employed more than 300 people over the course of 2013. Additionally, the Form 990 states that J/P HRO paid Casbah Productions $278,069 for handling an annual fundraiser which, in 2013, grossed a total of $3.8 million for J/P HRO. Most importantly, 91.2% of all funds raised by J/P HRO in 2013 supported the organization's ongoing programs and initiatives, which is well within the 'gold standard' for similarly situated non-profit organizations."