Track Palin Charged With Assault & Interfering With Domestic Violence Report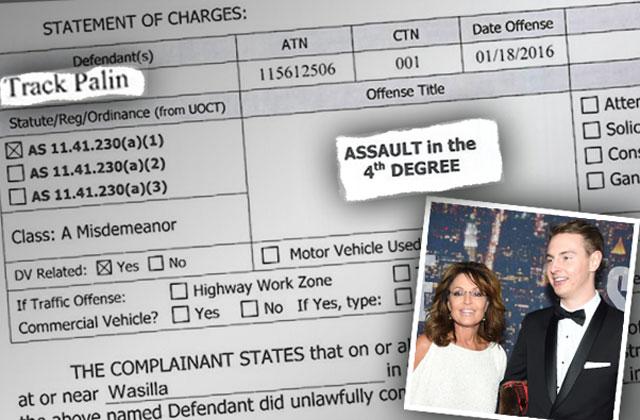 As new details emerge from the Monday arrest of Sarah Palin's son, Track, RadarOnline.com has obtained exclusive court documents revealing the shocking events leading up to the alleged incident of domestic violence.
As Radar previously reported, the 26-year-old was arrested for assault and possession of a weapon while intoxicated, after allegedly attacking his partner in a Wasilla, Alaska home on Monday, January 18.
Article continues below advertisement
According to police reports, the first call came from the woman, presumably in a relationship with Track, who claimed "a male had punched her in the face and that a firearm was involved."
Then, a second call was made, this time from a man who identified himself as Track Palin.
A responding officer called Track's behavior "uncooperative, belligerent and evasive" during questioning, and also noted his bloodshot eyes and the stench of alcohol, KTVA CBS 11 News reports.
"Palin approached the woman and struck her on the left side of her head near her eye with a closed fist," police claimed in court documents. "Palin then kicked her on the right knee."
During their altercation, Bristol Palin's big brother allegedly grabbed the woman's phone, tossing it across the driveway. After retrieving it and returning inside, she reportedly discovered Track with a gun. She said that she believed he would kill himself, opting to run outside and hide to diffuse the situation.
Article continues below advertisement
Track later denied having a weapon during their dispute.
The pair had visible injuries, Track sporting a gash on his face after "she threw a bow" (an elbow). Meanwhile, the woman had a noticeable head injury and complained of pain she had in her leg.
As Radar reported, it's not Track's first run-in with the law. He was caught in a drunken 'gay' rant during a boozy 2014 brawl at a local home.
Watch the Video on RadarOnline.com: