Exclusive
Off The Wagon? Bumbling Mel Gibson Makes Fool Of Himself In Supermarket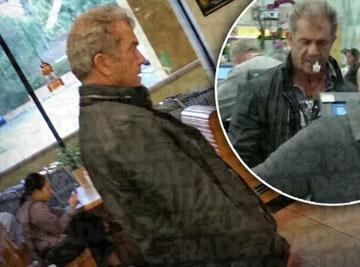 Mel Gibson has been caught on camera stumbling around a supermarket with a fork in his mouth!
Just the day before the Braveheart star traded barbs with comedian Ricky Gervais at the Golden Globes, 60-year-old Gibson's odd behavior at a Southern California grocery store worried workers and customers.
"Mel went into the Whole Foods store in Thousand Oaks and was stumbling around," an eyewitness told RadarOnline.com.
Article continues below advertisement
"He came in with a big white fork in his mouth and he seemed unsteady. He tripped a couple of times and he was telling people he wasn't really Mel Gibson."
When customers in the store asked to take photos with him, the eyewitness said Gibson resisted, instead inquiring about the price of the same item over and over again.
"'How much is this?' Mel would ask about the same item repeatedly, as if not understanding. Mel was saying he couldn't find what he wanted and he couldn't remember what he wanted. He looked like he was going to fall asleep."
Gibson's troubling behavior raises some serious red flags. He has admitted to alcoholism and he used an outpatient style recovery program after his DUI arrest.
"He was extremely rude to people," said the witness. "It was a real turn-off because people saw that there was something going on with him, he wasn't behaving politely at all and seemed unsteady."
The actor's exit from the supermarket was just as awkward as his arrival.
"Mel went to the checkout line and tried to pay with his credit card but had to insert in three different ways for it to work," said the insider of the actor, who looked "like he could fall down at any moment."