Karen Huger & Gizelle Bryant Battle Over Etiquette In 'RHOP' Premiere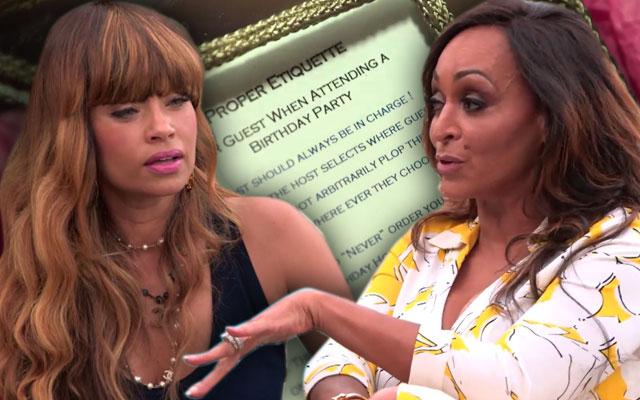 The season hasn't even begun yet and the women are already arguing!
In a preview for the series premiere of Real Housewives of Potomac, Karen Huger, 52, decides to give Gizelle Bryant, 45, a lesson on etiquette after Bryant sat in the center seat at Huger's birthday dinner.
"Do you know what you did at my birthday party?" Huger asked Bryant. "You sat in the center of the table first of all. You're not the honoree. I'm the birthday girl. You're in the center of my table sitting there like, 'Okay, it's my birthday.'"
Article continues below advertisement
Bryant takes a moment to joke about the situation implying that Huger can get attention from anywhere in a room.
"Karen, you are the diva extraordinaire, so you could be sitting around the corner," she said.
But to top her off, Huger reveals a present she bought for Bryant: a picture frame with the five rules of etiquette when attending a birthday party in it.
"I don't have a problem with Gizelle," Huger said in a side-confessional. "I actually like her. But she's irritating, and as her friend, it's my responsibility if she doesn't know any better to teach her better."
"Now by the way, if you check the frame out, it has a mirror," Huger said to Bryant as she opens the gift. "And you could look at yourself as you read it."
Bryant reads the first rule on the list, which says that the host should always be in charge.
Huger takes this as a cue to point out that Charrisse Jackson Jordan hosted the party, not Bryant.
Bryant then reveals that Jordan was late to the event and when she did show up, she didn't direct her to sit somewhere else.
Article continues below advertisement
"But I find it interesting that you felt the need to sit in the center," Huger replied. "There were five other women and none of them wanted to sit in the center but you."
Another one of the rules is that party guests can't eat before the honoree arrives.
"If we had waited for you, we would've never ate," Bryant stated. "You were like three hours late."
This causes the women to start arguing.
"30 minutes is not three hours late," Huger claimed. "You're exaggerating."
Bryant tries to point out the length of Huger's tardiness again, but instead gets shushed by her costar.
"Shhh! It was 30 minutes which is par for the course, if you know anything about etiquette," Huger said.
With the ball back in her court, Bryant takes a final swing.
"Karen, you don't have to school me on ettiquete," Bryant said. "I didn't come from the cabbage patch. I have a legacy and a pedigree. You grew up on a farm."
RHOP premieres on Bravo on Jan. 17 at 9 PM ET.