Mariah Carey Complains That Her 35 Carat Engagement Ring Is Too Heavy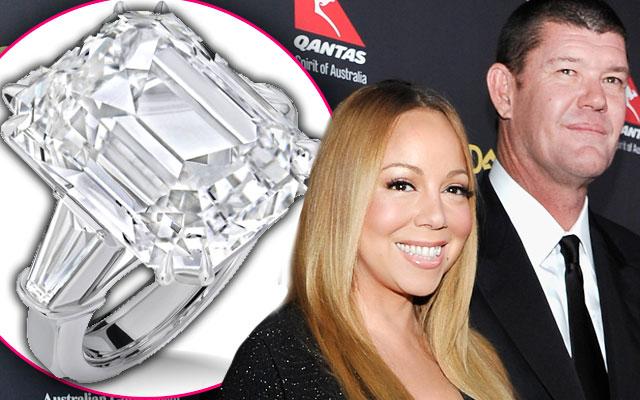 Women around the world may be envious of Mariah Carey after she received a 35 carat engagement ring from her billionaire hubby-to-be James Packer, but not so fast, ladies - the diva songstress says there are drawbacks to toting such a hefty rock!
"It's so heavy I can't lift my arm up!" she complained jokingly to E! News, adding "No...It's a nice chunk."
But, as RadarOnline.com reported, one thing that is not chunky is Carey herself. In recent weeks, the 46-year-old mommy of two has shown impressive weight loss, taking to the beach in bikinis and strutting down red-carpets looking svelte in glamorous evening gowns as she prepares for what is sure to be a wedding to remember with her boyfriend of less than a year - even though she now insists that it will be nothing lavish, at least not by her standards. "We are not doing a big wedding because he did two big weddings, and it's kind of like, 'I've done a big wedding too,'" she said. "We would rather make it beautiful but humble."
Article continues below advertisement
Still, she did admit that she is thrilled about her gown, saying "I am very excited about the dress, but I don't want to talk about it yet, as I have to have my first fitting."
Now, all the happy couple has to do is finalize their divorces!
Do you think Carey's bling is too much to handle? Share your thoughts in the comments section below!