Exclusive
Party Monster! Lindsay Spits In Bystander's Face During 'Racist' Meltdown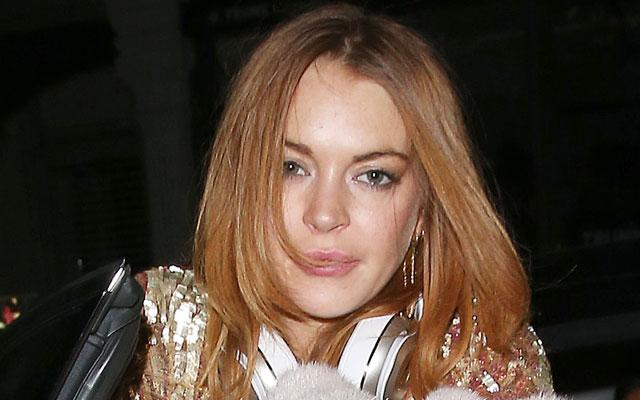 Lindsay Lohan's crazed ways have once again landed the troubled starlet in hot water, RadarOnline.com has exclusively learned. According to multiple sources, cops were called to a Manhattan bar Friday night following a bizarre incident in which the Mean Girls actress spat in the face of a man and made a series of "racist" remarks.
Sources tell RadarOnline.com that LiLo and her sister Ali were together in the bathroom of Vbar in Greenwich village in the late hours of Friday night when the bartender asked the pair to leave.
Article continues below advertisement
"They walked in off the street and made a beeline for the bathroom. They didn't order a drink or anything. They were in there for around 20 minutes and then the bartender started knocking on the door and asked them to come out. When they didn't come out, he then asked them to leave and Lindsay became aggressive and belligerent," a source said.
"Lindsay came out and her eyes were glazed over and she started yelling at the bartender – who is originally from West Africa – 'This is New York. You're not from here.'"
"What stunned everyone is when she was talking to him in a mock African accent and she kept asking him if he was from Ghana. It seemed like a racist attack."
At this point, other drinkers who were watching events unfold and were disgusted by Lindsay's behavior intervened and asked the hard-partying pair to exit the bar.
"They wouldn't leave and all hell was breaking loose and that's when Lindsay spat in our friend's face. The bar then erupted and everyone was yelling at them to leave," a second source said.
Article continues below advertisement
Lindsay – who has had multiple stints in rehab - and Ali then did leave only to then try and get back into the bar but were thwarted as the bartender had locked the door, the eyewitnesses said. Bizarrely, the sisters then got out their cell phones and started filming people inside.
"They came back with their lights on their cameras and they put their face up to the windows. Lindsay was slamming her hands on the windows. She was messed up," said the first source.
Finally the sisters walked away, but the drama was not over - especially for the barman, who had been the first to tell the Lohans to leave.
"About half an hour later, a friend of Lindsay's came to the bar and tried to fight the bartender. He got in his face taking a really aggressive stance and was threatening him," a source claimed.
"Another person in the bar attempted to film it and then Lindsay's friend stole her phone and ran out of the bar with it. We then chased him and restrained him till the cops arrived. It was madness."
Article continues below advertisement
Lindsay Lohan's 10 Biggest Lies Exposed
Four NYPD officers responded to the scene and questioned Lindsay's male friend.
The petrified bartender, who suffered a scratch on his arm in the brawl, told RadarOnline.com he has never experienced anything like it.
"I was scared because I didn't know what would be the end result," he said. "Especially when you are a black guy in New York and seeing as they (the Lohans) were totally racist and kept asking me where I was from."
"Luckily the cops were really nice and they understood. They asked me if I wanted to press charges and I said 'no I just want him to leave'. The cops told the guy to stay off the block. They told him if he comes back they would arrest him."
"If that was me and someone spat in my face, I would have lost control. If you spit in someones face you don't consider them a human being. Their behavior was disgusting," the bartender added.
Immediately after the incident, Lindsay posted a Johnny Depp quote on her Instagram which read: "Just keep moving forward and don't give a shit about what anybody thinks. Do what you have to do, for you."