Leo & Taylor Kinney 'Had It Out' Over Epic Globes Lady Gaga Diss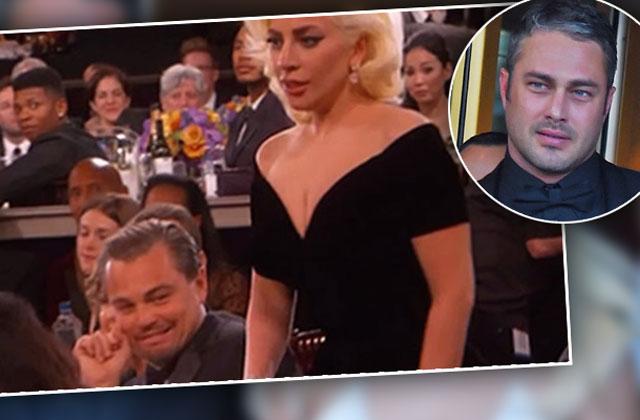 Leonardo DiCaprio's epic on-camera diss at Lady Gaga was by far the most talked about moment of last night's Golden Globe Awards. But RadarOnline.com has learned the most explosive moment happened later, when her fiancé Taylor Kinney confronted the Globes winner over his shady behavior!
DiCaprio's apparent diss after the American Horror Story: Hotel star's win for Best TV Actress went viral online almost immediately:
Article continues below advertisement
When the 41-year-old actor was backstage after nabbing his first Globe for Best Actor in The Revenant, he told Entertainment Tonight that he had a perfectly logical explanation for the shade throwing, saying, "I just didn't know what was passing me."
But RadarOnline.com has exclusively learned from a source close to Gaga, 29, that – although she handled the situation with dignity and grace – her 34-year-old hunky fiance Kinney did not!
"Taylor was not going to let anyone make fun of his future wife, even if they are an A-list actor," said the source. "It was her moment to shine and she worked very hard for that award."
According to the insider, later in the evening Kinney approached DiCaprio at the Fox/Hulu after-party and let him have it. "He basically told him in a non-confrontational sort of way that he should apologize to her because it was flat out rude and extremely unprofessional," according to the source.
MORE ON:
Leonardo Dicaprio
Article continues below advertisement
However, the Gaga insider told RadarOnline.com that it was not completely DiCaprio's fault and that the American Horror Story Golden Globe winner "INTENTIONALLY bumped into Leo!"
"Leonardo was talking sh*t about her even before the show started because he did not think she deserved to be nominated," the source claimed. "It got back to her obviously."
"She would have ignored it, but when her name was announced as the winner, Leo was laughing so loud that people far away from his table heard it. He was making a total scene."
"Gaga was not about to let him steal her moment and she wanted to shut him up," the source added. "She sure did."
Do you think that Leonardo DiCaprio owes Lady Gaga an apology? Tell us your thoughts in the comments below.