Exclusive
Sad Last Days! Kim Richards On The Edge As Ex's Cancer Worsens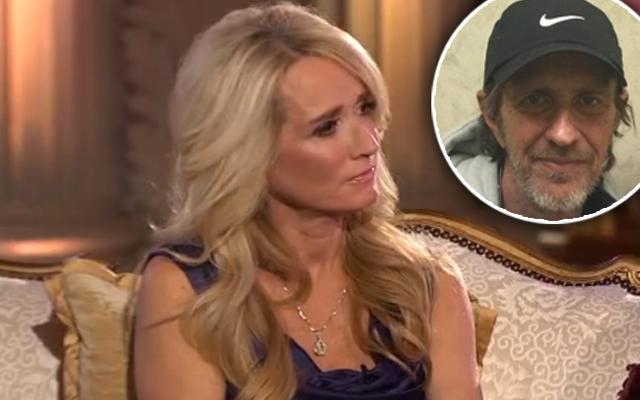 Kim Richards' ex-husband, Monty Brinson, is nearing the end of his cancer battle, and RadarOnline.com has learned her family is terrified she will relapse when he goes.
Brinson has bravely documented his Stage-4 lung cancer and brain tumor diagnoses, sharing with his many Instagram followers the highs and lows of his fight for life, but recent developments in his health crisis are heartbreaking for Richards.
Article continues below advertisement
"Kim has been by Monty's side since he was diagnosed and when he passes she is going to be devastated," a source close to the 51-year-old Real Housewives of Beverly Hills star told RadarOnline.com.
"Everyone is worried that his death will compromise her sobriety, since she is just so newly sober."
As RadarOnline.com reported, she recently celebrated 60 days off of drugs and alcohol.
Kathy and Rick Hilton opened their home to Brinson for months before his latest hospitalization, keeping Richards' ex close to his family, even hosting their daughter, Brooke Brinson's wedding in their Beverly Hills estate.
Unfortunately, RadarOnline.com has learned that his last days in the hospital are a struggle for the once-vibrant man.
"He is not even able to walk on his own," his other ex-wife, Terri Doss, told RadarOnline.com. She revealed that he is paralyzed and is "not of sound mind."
Doss also posted on his Instagram page about his condition, writing, "Monty wants everyone to know that he had a stroke a month ago and it has effected (sic) his decision making / mind.. He did not mean to post what he had and apologizes to all of you .. His mind is not clear."
RadarOnline.com also learned that Brinson expressed concern, before being admitted to the hospital, that he "might not make it."
The source explained that Richards' family is "praying for his health and praying that Kim makes it through the heartbreaking situation."