Khloe Gives Brother Rob A Tip: 'The Best Form Of Revenge Is A Good Body'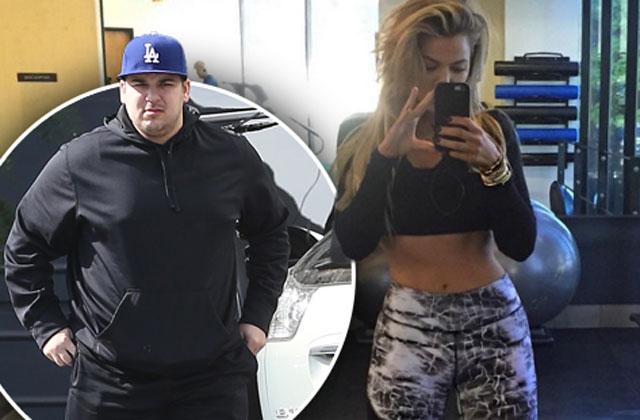 Khloe Kardashian knows a little something about getting in shape after a tough breakup, and now she's sharing her wisdom with the world — and troubled brother Rob, of course.
In a new blog post, the 31-year-old offered some sound advice on getting over the "hard times" hump, suggesting that workouts are the best way to feel good about yourself (and show others what they're missing in the process).
"I told Rob a while back: the best form of revenge is a good body," she wrote. "It's a little silly but true. There is literally no downfall to working out your blues in the gym! You'll feel better, and the by-product will be a fierce bod that's bound to make your ex do a double-take."
Article continues below advertisement
As RadarOnline.com previously reported, Rob was recently diagnosed with type 2 diabetes, leaving the Kardashian klan concerned for his health. Sources say the family has even tried sending the 28-year-old to rehab.
"People ask me all the time, 'How did you bounce back from your breakup?'" Khloe continued in her post. "I guess since I started transforming my body and myself after such a low point in my life, people see me as some sort of expert on the subject. I'm not claiming to be one, but I do have some insight to share with you dolls."
It's no secret that the reality star has been through her share of heartbreak this year, after her soon-to-be ex-husband Lamar Odom nearly died from an overdose in a Nevada brothel last October.
Since then, Khloe's been hitting the gym — hard — and it's definitely paying off! From her bootylicious Complex magazine cover to the release of her book, Strong Looks Better Naked, this Keeping Up With The Kardashians star has certainly found her stride.
Will Rob actually take Khloe up on her advice? Let us know what you think in the comments below!