Shop Till She Drops: Kate Gosselin & Her Kids Go Out For Retail Therapy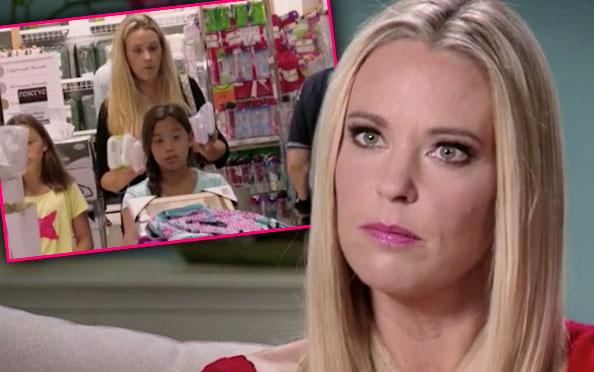 Summer has come to a close on episode 6 of Kate Plus 8. After the "deck party of a lifetime" what more could you want out of summer anyway? On this episode, Kate Gosselin takes her gaggle of eight on a back-to-school shopping escapade.
In an unexpected power reversal, the sextuplets finally use their teamwork to boss around their mother, who seems surprisingly out of her element at the mall. Like daughter Leah on a boat, Kate looks like she's on the verge of vomiting while shopping.
Article continues below advertisement
In confessional, Alexis discusses the phenomenon matter-of-factly, telling cameras, "We just use the power of six."
After navigating through brightly colored backpacks, shorts, and tiny sneakers with minimal fighting, Leah, Joel, Collin, Alexis, Aiden and Kate stop to have a snack. Over pretzels, the reality star mom tells a story of her shopping yester-years while everyone zones out, staring at their lemonade and waiting until it's over.
For good measure, Kate fits in a home improvement activity into their excursion so viewers and the Gosselin children get a reminder of who's boss.
"My goal in this project was for it to be like a family project," Kate explains to the camera as she prepares all the materials necessary to sand and repaint a picnic table (that no one cares about).
Armed with little masks and tiny pieces of sand paper, the Gosselin children get started on the daunting task of hand-sanding the old wooden picnic table on a hot late-summer day.
Article continues below advertisement
At some point, however, Kate's little "workers" lose the will to carry on. In a move most would call psychological warfare (but she must see as parenting), Kate emerges with a large sanding machine that she's had the whole time. Proud of herself, the so-called "monster" mom lists all of the "scary" power tools she's used before attempting to dazzle cave-living viewers who miraculously still own televisions.
In the big finale of this episode, Kate takes Mady and Cara shopping at a few funky boutiques. While the trip was meant for Mady and Cara, Kate — of course — steals the spotlight, trying on super trendy outfits and squealing things like "Oh yessss!" or "This might be a problem!"
She must have learned that kind of talk from old episodes of Sex and the City or Will and Grace.
Kate later steals the spotlight from her daughters by getting "loopy" and trying "crazy" stuff on like a poncho (OMG!) or a jumpsuit (STAHHHP!).
Meanwhile, Mady rolls her eyes to the camera, "When did this turn into mommy shopping trip? It's not a surprise everywhere she goes she gets stuff."
Never the fool, Mady quietly chooses some cute jeans and stylish sneakers while her mother keeps busy, twirling around in the mirror.
Kate Plus 8 airs Tuesdays at 10 p.m. ET on TLC.