Heather McDonald Claims Chelsea Handler Treated Chuy Bravo Like 'A Slave'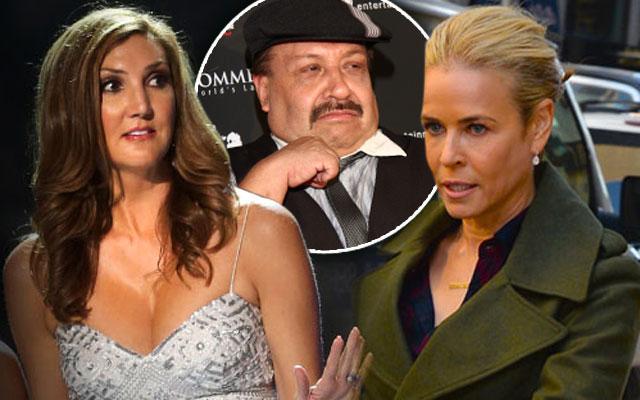 Heather McDonald can't stop talking about Chelsea Handler! The former Chelsea Lately writer got major heat for sharing her bad experiences about former boss on a podcast earlier this week, but RadarOnline.com has learned she joined former coworkers Jo Koy and Chris Franjola on Fairly Normal with Josh Wolf to bash her boss last month! And the claims she made about Handler's little person sidekick Chuy Bravo are shocking.
Article continues below advertisement
"The whole relationship on the show between Chelsea and Chuy was so wrong and so inappropriate — basically like she owned a slave or a pet, but people didn't care because the little people were just so happy that a little person had a job, that she was a supporter of little people," McDonald claimed.
Afterward, Koy claimed that Handler asked him to be her sidekick originally instead of Bravo, but he didn't want the job because he wanted to continue his on-the-road stand up career. Unfortunately, Handler's reaction was less than encouraging.
Koy said, "I ended up getting a deal and I go 'Ah Chelsea I don't wanna, I kind of want to do this, my own thing' and then she goes 'you f**king idiot, you let these mother***kers tell you what to f**king do. Don't you have a mind of your own where's your f**ing balls.' She goes 'you're never gonna do anything right,'" he claimed.
After that Koy was taken off the show for a month.
McDonald also went into detail about why she gave up on trying to rekindle her friendship with Handler.
Article continues below advertisement
"We had a text fight. She never wanted to see me in person after that. I never was able to explain myself and I just felt like that's her M.O. when she wants to get rid of someone," she said. "I tried once more and I was like that's it. I was too afraid to reach out again and get something so horrific back that it would be debilitating. I was like I don't want to open myself up to a debilitating, mean email. I'd rather it be dead."
Nevertheless, all members of the group insisted that they respect Handler and enjoyed their time on the show.
As RadarOnline.com previously reported, Handler and McDonald have recently been feuding after McDonald made comments about her being a terrible boss. Since then, Handler has shot back on several occasions on different TV shows and radio stations.