Shut Up, Or Else! Chelsea Handler's Secret Text Threat To Heather McDonald Revealed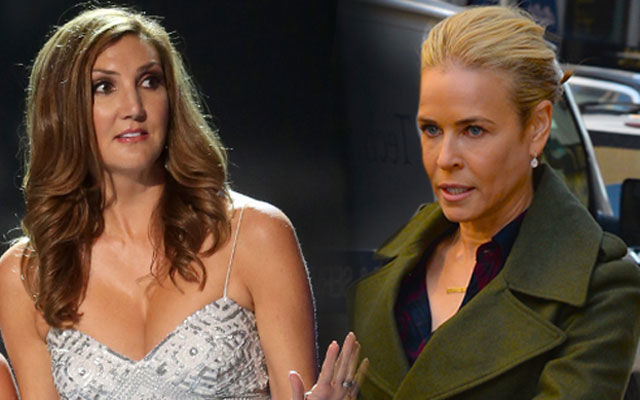 Heather McDonald's ongoing PR campaign against her former employer Chelsea Handler may be coming to an end — at least if the Chelsea Lately boss has anything to do with it! RadarOnline.com has exclusively learned that the 40-year-old A-list talk show host sent a scathing text message to her brunette nemesis on Wednesday night, warning her to keep quiet.
"She reached out to her Wednesday night and basically told her to shut her mouth," a source close to the situation told RadarOnline.com.
Article continues below advertisement
But for now, it did not work.
Thursday morning, McDonald started her weekly podcast, Juicy Scoop With Heather McDonald, by insisting she is the victim in the whole mess.
Handler claimed she leaked stories from the set in exchange for photos placements in magazines, but she insisted, "I have never betrayed Chelsea Handler. I never sold stories to tabloids or traded them to benefit myself or get myself in them."
"This is completely untrue and has never happened. I am an honest person," she added in her podcast.
The feud began earlier this week when McDonald, 45, said that she lived in "100 percent fear" while working for Handler on Chelsea Lately, which ran for seven years on E! until Handler pulled the plug and decided to not renew her contract.
After Handler got word that her former co-host – who also served as a head writer on the show – was throwing some major shade her way, she fired back and said that the real reason that McDonald harbored a resentment is because she was outed for selling stories to other outlets while working for her.
Article continues below advertisement
But that's not all! As RadarOnline.com previously reported, McDonald joined former coworkers Jo Koy and Chris Franjola on Fairly Normal with Josh Wolf last month, where she first bashed her boss. The claims that McDonald made about Handler's sidekick, Chuy Bravo, were shocking!
"The whole relationship on the show between Chelsea and Chuy was so wrong and so inappropriate — basically like she owned a slave or a pet, but people didn't care because the little people were just so happy that a little person had a job, that she was a supporter of little people," McDonald claimed prior to the New Year.
Although Handler has not yet commented on McDonald's latest claims, and ignored them completely during an appearance on the Ellen DeGeneres Show Thursday, one thing is clear – these ladies are not laughing anymore.
Who do you think is in the wrong, Heather McDonald or Chelsea Handler? Tell us your thoughts in the comments below.