Exclusive
Equal Hatred! Charlie Sheen's Vicious Rants Against Ex-Fiancée Over Health Crisis — After Slamming Kids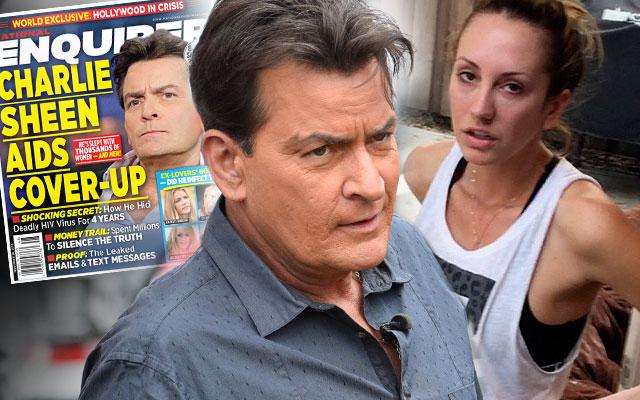 First it was his own kids, now it's his ex. RadarOnline.com has obtained a series of scathing texts messages Charlie Sheen sent his estranged ex-fiancée after he suffered a "terrifying" health scare.
"I need to get a couple things off my chest," Sheen wrote Ross in late 2014. "This is not about a bunch of fancy words, this is about how I feel and is rooted in absolute truth. I find your behavior as of late to be incredibly selfish."
Article continues below advertisement
As RadarOnline.com reported, Sheen, a longtime smoker, revealed his "terrifying" health scare late last year after he was diagnosed with — and beat — a pre-cancerous throat condition.
Sheen sent Ross the texts after she had visited him in Boston, where he was getting treated for his condition.
"When you got the text yesterday there was NOT ONE MENTION of how I was feeling," complained Sheen, 50. "It was ALL ABOUT you and how this would affect you and how because some dead dooshbag sic I couldn't give A F--K ABOUT, is so painfully gonna repeat itself. Thanks. Tons of confidence there."
The Two And A Half Men actor seemed to be referencing someone from Ross's past who had suffered cancer and passed away from the disease.
"It's also about and how you wear all this cancer shit like some badge of false courage...THIS IS NOT ABOUT YOU!!!! F--k!" blasted Sheen, adding, "You have not once asked me how I'm feeling through all this."
Sheen then ripped into Ross because she "never once" sent him flowers in the hospital or because he had gifted her "a trip, a new car, a watch, money."
Article continues below advertisement
"That sucks," continued Sheen in his text rant. "The fact that NOTHING SHOWED up in BOSTON based on what I was there doing is f--king s--t city."
Sheen warned Ross that she better get out of her "own selfish way real fast or it's all gonna be gone in the blink of an eye."
"You talk about how none of these whores appreciate me?" Sheen concluded. "Guess what…it ain't much diff with you. Hope I'm clear. I need some space this am."
The National ENQUIRER broke the news on Monday that Sheen has been HIV positive for the last four years.
In a recent lawsuit filed by ex-wife Denise Richards, it was also revealed that Sheen had been sending threatening messages to the former couple's children as well.
In 2013, after a difficult holiday season fighting over the children, Sheen daughters — Sam, 11, and Lola, 10 — wrote letters to the their dad to express their feelings.
"I walked into the room during the call and heard Sheen screaming, calling Lola (then nine years old) a 'fucking pig whore,' and yelling 'I'm going to kill you and your mom.' I told Lola to hang up, as she was visibly shaken and upset," Denise claimed in court documents. "Sheen called back repeating the comments to me and yelling, 'how dare you let them write these letters.' He then said he was coming over to the house with a baseball bat and the conversation ended. I immediately contacted Sheen's security, warning them I would call the police if they let Sheen come to the Clerendon residence. After this incident I hired private security for me and our children."