Yolanda Slams 'RHOBH' Co-Stars Lack Of Empathy In Lyme Disease Fight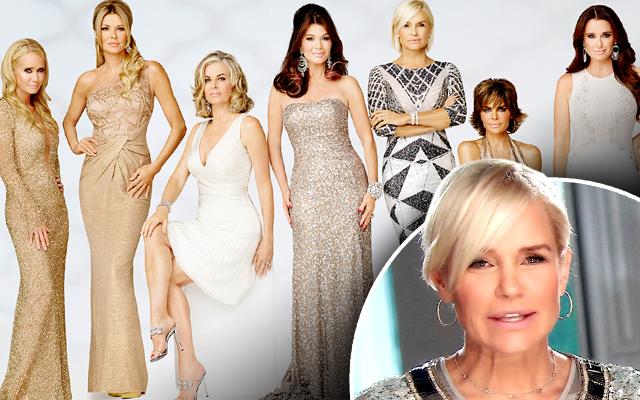 Yolanda Foster took to her Bravo blog to reveal how she's sometimes suffered — but also grown — because of Lyme disease.
"Becoming chronically ill has definitely given me a greater understanding of human nature, and I've learned to accept people's lack of long-term compassion for others while they live their busy lives," Foster wrote in a new Bravo blog post.
"I have gone from being an outspoken multi-tasking social butterfly to a hostage of my debilitating disease. I might only be a shell of the woman I used to be, but my heart is still the same, and even though I can only do life one day at a time, I am at peace and have surrendered to my new normal — for now."
Article continues below advertisement
Foster, 51, goes on to explain in her post that she finds it difficult when others judge her for the way she does and doesn't look.
"Its' almost like you have to show scars and broken bones in order to be warranted understanding," she wrote. "Does it count that even though we don't 'look' great, that we show up? It's tempting to be distracted by negativity, but I choose to stay focused on the light at the end of the tunnel and not let anything interrupt my healing process."
As RadarOnline.com reported, Foster's RHOBH frenemy Kyle Richards recently blasted her Lyme disease treatments as "cockamamie" and "dramatic."
"Bless the hearts of my fellow Housewives!" Foster sniped on her blog in response. "May neither they, nor their families, ever have to face such illness, because it is at that time when we learn and realize what really matters."
"If Lyme wasn't such a controversial disease, I'd probably have chosen to deal with my journey in a more private manner, but the amount of suffering that goes on behind closed doors all over the world is unconscionable, and I feel it's my duty to be a voice for those who can't be heard. I want to shine a light on a disease that so many know so little about," continued Foster.
"I wish my message was more fun and glamorous than this, but I accept that these are the cards life has dealt me," she added.
"I'm extremely fortunate and grateful to have had the opportunity to travel to 11 countries, five states, and see 100+doctors, but the truth is that even though I have made great strides in the past six months, I have not found a cure yet."