Kyle Calls Yolanda Foster's Lyme Disease Treatments 'Cockamamie'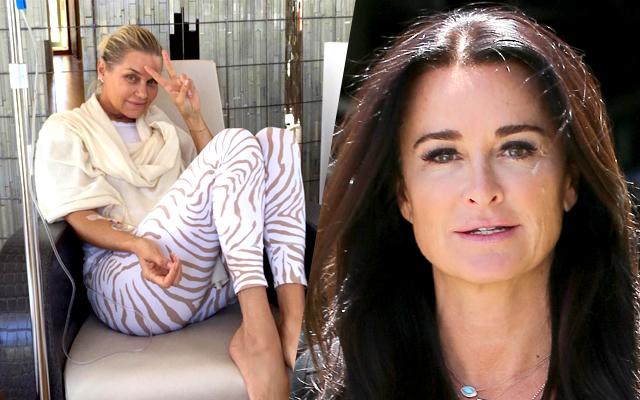 Talk about hitting someone while they're down! Just hours before Yolanda Foster publicly announced her divorce, her frenemy Kyle Richards blasted her in a bitter interview, calling her Lyme disease treatments "cockamamie" and "dramatic!"
As the Real Housewives of Beverly Hills star searches the globe for a cure to her debilitating disease, Foster has been hit with accusations by her co-stars that she is faking the illness, and Richards is the latest to chime in with skepticism.
Article continues below advertisement
The 51-year-old, who recently announced that she and her husband, David Foster, are divorcing after nine years, has documented her struggle with the disease and the extreme measures she is going to to find a cure.
"I think a lot of it has to do with questioning the types of treatments and the lengths she was going to," Richards said on HuffPost Live on Monday.
"She was going off to Korea and Germany and Mexico and all these cockamamie treatments."
Her callous remarks continued when Richards explained how the other women on their Bravo show judged Foster.
"I think the other 'RHOBH' ladies were kind of taken aback by her dramatic posts on Instagram, which is what sparked all that stuff."
As Radar previously reported, Foster's husband spent more than $500,000 on treatments for his wife, sparing no expense to alleviate her pain.
Richards insisted that unlike her co-stars, she has always believed Foster.
"I want to be very clear on this: she 100 percent has Lyme disease and is really suffering. There is no question about that at all," she said.
But she delivered a shocking blow, revealing that Foster is in a precarious position: "She is very sick and really struggling every day to just hang on." And the divorce news won't help.
Do you think Kyle is Yolanda's frenemy or friend? Sound off in comments below.