Unhappy Holidays! Tori & Dean Fighting Over Money Issues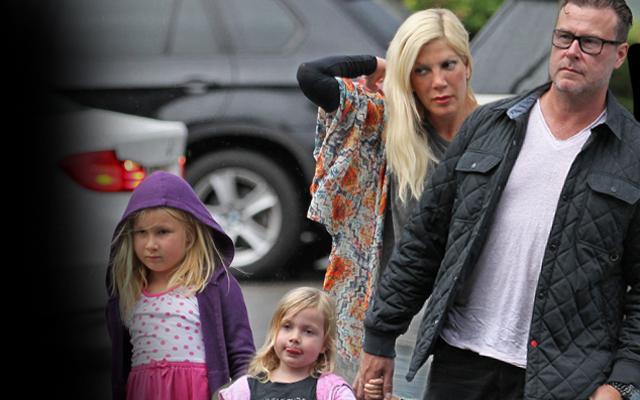 'Tis the season for fighting at Tori Spelling and Dean McDermott's home. Although Spelling has traditionally gone to great lengths to make Christmas special, RadarOnline.com has learned that financial limitations are taking a toll this year and she's taking it out on her husband.
"Christmas has always been a very big deal for Tori and she has always gone over the top," an insider told Radar. "But the reality has set in that with their financial situation the way it is, they just can't buy all of the gifts for the kids that Tori would like. It's depressing for Tori to not be able to go out and just buy the kids the stuff they want."
Article continues below advertisement
McDermott, 49, "isn't stressed out about it because he thinks the kids don't need so much stuff and has a less is more approach," the source continued.
But Spelling has been "absolutely miserable. This isn't how Tori ever could have envisioned her life."
"She feels trapped in the relationship, and Tori is ready to pull the plug on the marriage," the source continued. "Neither one of them has any income coming in at the moment, so Tori is no longer frightened that Dean could seek and get financial support."
Meanwhile, Spelling, 42, is hoping daughters, Stella, 7, and Hattie, 4, might be able to help the family's bottom line by becoming successful models. They recently appeared in with full make-up for their debut ad campaign with Modern Queen Kids.
The couple's financial and personal issues played out in front of the cameras on last season's True Tori.