'Star Wars' Feud! R2D2 Actor Says He's 'Furious' Over Snubs From C-3PO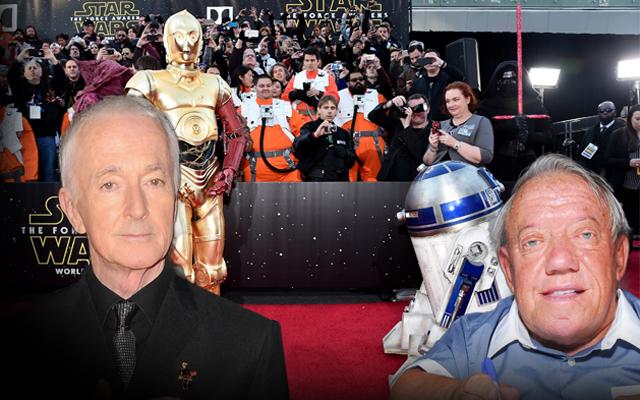 With Star Wars Episode VII: The Force Awakens hitting theaters in just a few short days, the lovable and heroic droid duo of R2D2 and C-3PO will make their debut again after a 10-year hiatus. However, RadarOnline.com can exclusively reveal that the actors playing the bionic buddies are in the middle of a decades-long feud!
Kenny Baker, who plays R2D2, spoke out to RadarOnline.com about his 40-year feud with Anthony Daniels, who plays C-3PO.
Article continues below advertisement
"Once when I said hello to him he just turned his back on me and said, 'Can't you see I'm having a conversation?'" the 3-foot-8-inch Baker told RadarOnline.com. He also claims Anthony once referred to him as, "little man."
"It was the rudest thing anyone had ever done to me. I was furious," he said.
Although that insult dates back to the original 1977's Episode IV: A New Hope, the explosive tensions between the two have carried over to recent years.
In 2008, when a TV personality tried to reunite the original Star Wars cast, Baker memorably said that if "golden balls" was in—he was out.
Daniels, for his part, once said R2D2, "might as well be a bucket," and even took away 81-year-old Baker's chance to play the astromech droid again in the newest film.
"I haven't seen him for years," 69-year-old Anthony recently said. "His name is on the credits as a sort of… I don't know, a good luck charm, a courtesy. He's a talisman.'"
Article continues below advertisement
Baker then confessed that he didn't actually inhabit the R2D2 costume during the new movie, but only visited the set as a "consultant."
Daniels' contempt isn't just for his hated robot costar. In September, he went after the Luke Skywalker actor, Mark Hamill, too.
"What is funny is C-3P0 looks the same – Harrison, Carrie and Mark, not so much…Poor Mark," Anthony said. "He was a young lovely looking lad when he was first Luke Skywalker and now …well…"
Although their famous characters will be returning to the silver screen as inseparable BFFs, Baker and Daniels don't seem to be making up any time soon.
"He never wants to have a drink with any of us," Baker said. "In 30 years of making the movies, he's never once come over with a cup of tea!"