Scheana Marie's 'Soft Core' Star Past Revealed: Raunchy Gym & Shower Scenes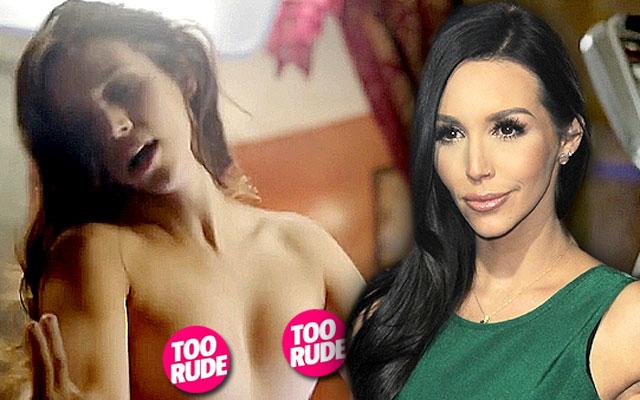 Scheana Marie has never been shy about her steamy past starring in soft-core show. But now, RadarOnline.com can reveal secret details of the racy shoots from the director himself!
Before getting cast in the hit Bravo show Vanderpump Rules, the 30-year-old reality starlet starred in a series of soft-core episodes of Femme Fatales in 2012.
"I really liked working with her a lot," the show's director Robert Meyer Burnett told Radar. "We were always at odds with the actors we could get and obviously you want to get good actors, but at the same time you were like, 'You have to get naked and simulate sex.'"
Article continues below advertisement
Scheana had no hesitations about taking her clothes off.
"She was a lot of fun on the set," Burnett said. "She didn't complain as many actresses can do. She threw herself into the role."
Scheana starred in two episodes titled "16 Minutes of Fame" and "Libra."
"It's a reality show riff — a riff on Big Brother," Burnette explained. "All of them were young and beautiful and all just wanted to go for it. They had no problem, like, 'Yeah you want us to take off our clothes? Yeah, no problem.'"
For Scheana, capturing her character was easy for her to do.
"Scheana's character turned out to be the villainess," Burnett said. "Not only did she have to have sex in the show, but then she had a huge cat fight in the kitchen at the end where she is battling with knives and pots and pens. She really went for it — I've got to give her all the credit in the world because she was awesome."
"I had a lot of fun with her," he continued. "I thought she was great. Total trouper: she did everything that we asked of her."
Article continues below advertisement
But after they wrapped the show, Scheana grew more leery about her image and tried to distance herself from the show.
"I had put a 2-minute directing montage of my footage from the show and I tagged everybody that was in my montage," Burnett recalled. "And she was actually the only one who objected to it."
"She wrote me back, and said, 'Look, I want you to untag me and please don't put me on any of your stuff anymore because I'm not doing this anymore and I'm in a different phase of my career,'" Burnett said. "I kind of felt bummed out. I get it, especially the cheesecake soft core show, but I thought she was good. I wish she looked back on doing those shows as fondly as I do."
In clips from her episode, Scheana is seen nude in a graphic shower scene and also in an intimate gym scene.
But according to Burnett, Scheana wasn't actually doing the dirty — she was just pretending.
"They were not having real sex," he said. "It was a soft core show. There was no real sex at all."
Get the exclusive celebrity scoop on all the stars you love before any of your friends by subscribing to our new podcast Straight Shuter below!