Unhappy Holidays! Kyle Richards Banned From Family Xmas Party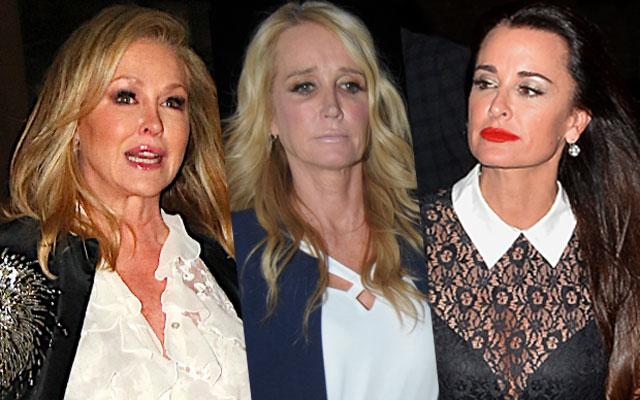 The Richards sisters' feud could ruin Christmas! RadarOnline.com has learned that tensions between sisters Kathy Hilton and Kyle and Kim Richards have intensified after Paris Hilton's mom refused to invite Kyle to the annual family Christmas bash.
"Kathy and her husband Rick's Beverly Hills Christmas parties are a huge annual event and Kyle wasn't invited this year," an insider revealed.
"Kathy made the decision after watching the recent episode of RHOBH in which Kyle discusses being uninvited to Nicky's wedding," the source continued. "Kathy has been absolutely seeing red since that time because it was so absolutely out of bounds to bring Nicky into the ongoing fighting between the three sisters."
Article continues below advertisement
And the insider said Kathy, 56, believes it's just the latest example of inappropriate behavior involving her famous kids.
"Before Kyle became famous on RHOBH, she would introduce herself to the media as Paris Hilton's aunt," the source said. "This is a woman that has wanted to be famous for a very long time. There is absolutely no family loyalty for Kyle and she will do anything for press."
As for troubled sis Kim, 51?
"She had been getting along with Kyle in the weeks leading up to the premiere, but things are once again very tense between them because of the Nicky situation," the source claimed.
As Radar reported, Kyle, 46, claimed on a recent episode of RHOBH that she had been uninvited from Nicky's summer 2015 wedding in London.
But the Hilton family insider previously told Radar, "Nothing was going to keep Kyle away from Nicky's wedding. It was the social event of the season and the reception was at Kensington Palace. Kyle would have crashed the wedding to be there." Indeed, she eventually attended.